The Mash Report axed
The Mash Report axed after four series
The Mash Report will not return to BBC Two for a fifth series
The BBC says: "In order to make room for new comedy shows we sometimes have to make difficult decisions"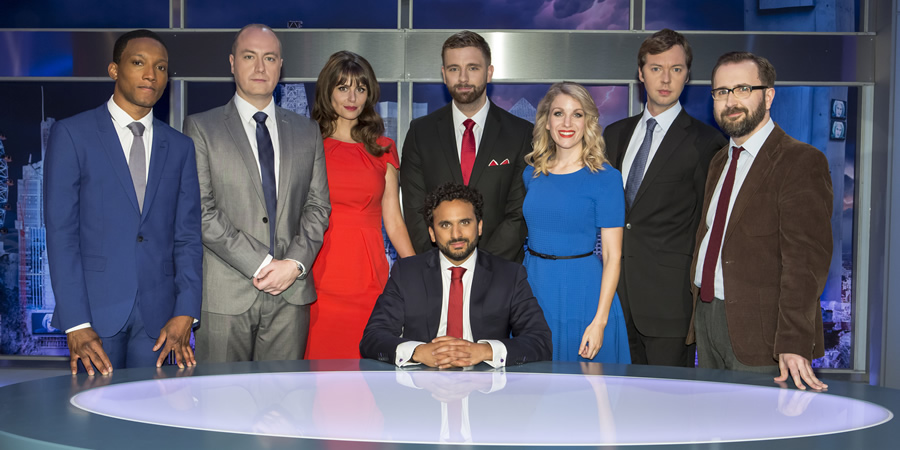 BBC Two has cancelled its topical comedy format The Mash Report.
A report in The Sun reveals that the show has been axed after four series.
A BBC spokesperson confirmed: "We are very proud of The Mash Report but in order to make room for new comedy shows we sometimes have to make difficult decisions and it won't be returning.
"We would like to thank all those involved in four brilliant series and hope to work with Nish Kumar, Rachel Parris and the team in the future."
The Mash Report, which launched in 2017, was born out of satirical website The Daily Mash. The show, last on air in April and May 2020, was one of the first TV formats to work out ways of filming from home during the coronavirus lockdown.
In total it ran for 28 episodes over its four series. Hosted by Kumar, the topical series featured a regular team of contributors including Rachel Parris, Ellie Taylor, Steve N Allen, Andrew Hunter Murray, Geoff Norcott, Tom Bell, Jason Forbes, Greig Johnson, Freya Parker, Pierre Novellie and Michael Spicer.
The Mash Report is one of a range of comedy formats that are in fact commissioned by the BBC's Entertainment rather than Comedy department. Other such titles include Have I Got News For You, Live At The Apollo and QI.
The Sun suggests that the reason the programme will not return to air is because it is too "left wing" to fit with new BBC Director-General Tim Davie's desire for more political balance across the corporation's channels, although The Mash Report team have always argued that they have no bias and tackle targets from all areas of the political spectrum.
However, according to overnight ratings records which estimate the number of viewers watching a show as it is transmitted, episodes from the fourth series of The Mash Report were seen by fewer than one million viewers, making the satire one of BBC Two's least-watched comedies in recent years. Despite this, a number of short clips from the show have achieved viral success online and been watched by millions on social media platforms. A Rachel Parris-fronted segment entitled "How NOT to sexually harass someone" has been viewed over 30 million times across the networks.
The programme won Best Viral Campaign in the Social Buzz Awards in 2018 for generating over 170 million Facebook views for videos, including a segment about Donald Trump and Piers Morgan:
See tweet
10:40am update: Nish Kumar reacted to the news with a tweet:
See tweet
2pm update: A petition has been launched urging the BBC to reverse its decision.
---
For updates, click the button below.
Share this page