Hush pilot
Miranda Hart, Greg Davies and Alice Lowe BBC sketch pilot uncovered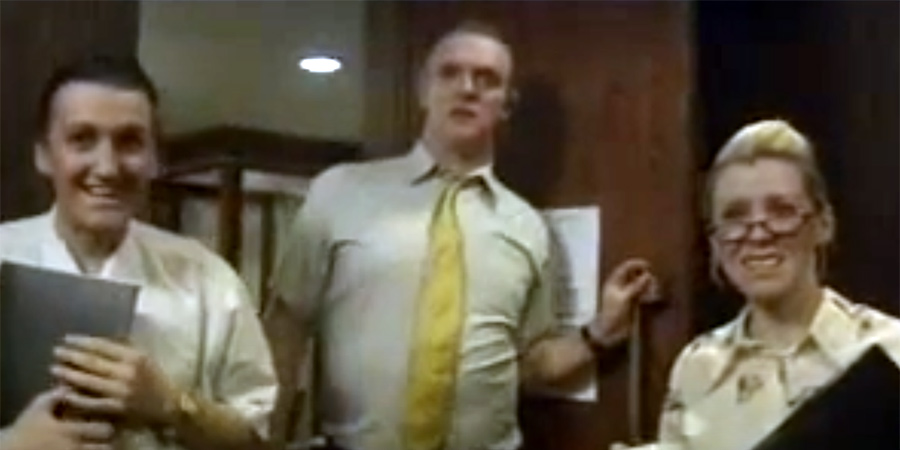 Miranda Hart, Greg Davies and Alice Lowe once made a dialogue-free sketch comedy for BBC Three, British Comedy Guide can reveal.
Hush, which was initially piloted in 2007, contained no speech but instead played with non-diegetic music setting up the jokes.
Two barely viewed clips of the unaired pilot can be found online. In the first, Dolly Parton's 9 To 5 plays as a group that includes Davies and Lowe interrupt a horrific scene in an office because they've booked the meeting room.
In the second, featuring Hart and Lowe, ominous string music plays as a young man, played by Colin Carmichael (Hot Fuzz), confronts an unknown threat lurking in his wardrobe.
The pilot was directed by Lindy Heymann (The Worst Witch) for Silver River Productions (Pulling, The Job Lot) and produced by Dan Hine, who would go on to make Cuckoo with Davies, and Chris Sussman, who became head of comedy at BBC Studios and is currently director of original series at Netflix.
Hart had already had regular roles in Smack The Pony and Nighty Night by the time Hush was piloted, having also earned a British Comedy Award nomination for Hyperdrive. And the first series of her sitcom Miranda would air on BBC Two the following year.
Davies was best known as part of the live sketch trio We Are Klang alongside Marek Larwood and Steve Hall, with a clutch of appearances in Katy Brand's Big Ass Show on ITV2, ahead of his breakthrough television role in The Inbetweeners in 2008.
Lowe had arguably the highest profile of the three after Garth Marenghi's Darkplace aired on Channel 4 in 2004, though its initial viewing figures were modest. She starred in Sharon Horgan's Channel 5 London cafe sitcom Angelo's with Hart, Simon Farnaby, Javone Prince and Paul Garner in the same year as the pilot.
Hine and Sussmann were committed enough to the Hush concept that they subsequently made another non-broadcast pilot in 2009, directed by Matt Holt (Lunch Monkeys) and written by and starring children's television writer Isabel Fay (The Rubbish World Of Dave Spud, Danny & Mick), after seeing their Funny Or Die office romance sketch Total Paperclips Of The Heart, co-starring Richard Glover.
Silver River made two further Hush sketches, featuring Fay, Rufus Jones, David Armand (Episodes, The Hollow Men), Lauren Shearing (Showstoppers, Austentatious) and actor-turned-director Will Kenning (Fairytale).
"I'd been watching loads of silent comedy at the time" Fay told British Comedy Guide. "Although silent is totally the wrong word for it because it was never silent, it always had music and the music was like a character. Unfortunately, [Hush] just never went anywhere."
Several years later, Matt Lucas made Pompidou for BBC Two, a dialogue-free sitcom in which he played a bumbling lord of the manor, harking back to the classical silent era. The 2015 comedy co-starred Alex Macqueen (The Thick Of It) as his butler and was co-written by Julian Dutton (Do You Think That's Wise?) and Ashley Blaker (Little Britain). However, it was cancelled after a single series.
Share this page