Mortimer Whitehouse website
Mortimer & Whitehouse launch Gone Fishing website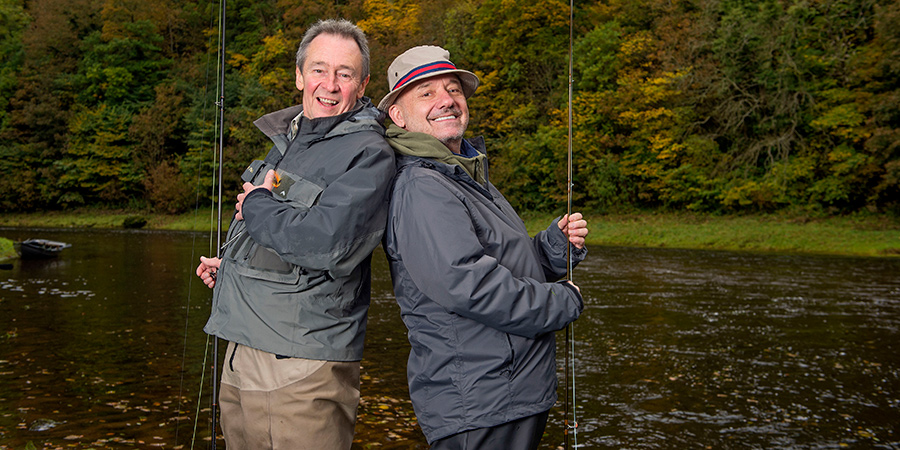 Bob Mortimer and Paul Whitehouse have launched a comprehensive companion website for their Gone Fishing series, featuring location guides, music playlists and recipes for Mortimer's idiosyncratic outdoor cooking.
Launched ahead of the fourth series of the BBC Two show, which British Comedy Guide exclusively revealed in September, Mortimerandwhitehouse.co.uk also features synopses for each episode, GIFs and out-takes from the show, including a supercut compilation of Mortimer's falls.
The website also includes a full run-down of the programme's crew, and the accommodation at which the pair have stayed whilst on their fishing trips.
Alongside "heart-healthy" recipes for such singular dishes as Slippery Wilf's Cauliflower Base Pizza and Tuna Melanie With Trapped Potatoes for "two old farts", the food section features a video guide for making corned beef hash, which Mortimer signs off with "see you next time", suggesting there are more Gone Cooking spin-off instalments to come.
Speaking ahead of their recent Christmas special, Whitehouse reflected upon the rare connection that the show has made with viewers.
"Given the germination of the programme, we knew it was going to have a level that might go beyond our usual stuff," he told the Independent. "It resonates with people who've had illnesses and problems of their own. It's not just a couple of catchphrases and falling over, much as we liked that. We get some extraordinary communications. It's very touching."
Mortimer added: "It's a different experience. Instead of saying they enjoyed it, they thank us for the show, which is nice. It's age appropriate, too. Comedy is and should be a young person's game, constantly replenishing itself."
And he ventured that the next generation of comedy stars will emerge online.
"The way into comedy used to be Oxbridge, university, intelligence, satire and all that business. The daft lads, the genuinely funny lads, couldn't get into that loop. I expect there will be some crackers coming off the YouTubes and that."
A series abroad has been mooted but Whitehouse played down the possibility.
"We've talked about it," he said, "but I think one of the reasons Gone Fishing is popular is that the fishing is on our doorstep."
---
For updates, click the buttons below.
Share this page