Ricky Gervais considers new Sky1 projects
Ricky Gervais considers new Sky1 projects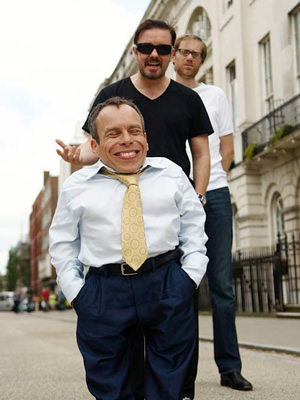 At the Edinburgh International Television Festival, Sky1's Stuart Murphy has revealed precursory discussions with Ricky Gervais for new TV shows.
Speaking at an event earlier today, the channel controller admitted that he had spoken to Gervais over dinner last night about two new possible TV projects.
One - which Murphy described as being ready and willing to commission "on the basis of a one-line brief" - would be based around an "unacceptable and un-PC character", a description which inspires instant recollections of Gervais's most well-known comedy creation, The Office's David Brent.
Another show is said to be based around a specific comedian (un-named) who Ricky Gervais is particularly keen to work with. It is thought that Gervais is enthusiastic about working for Sky1 as they have aspirations to become a "British HBO", the American pay-TV network famed for its innovative and cult-hit programming.
The second series of An Idiot Abroad, the travelogue series starring Karl Pilkington, is expected to begin on the channel in a few weeks, and the highly anticipated mockumentary sitcom Life's Too Short for BBC Two in mid-October, starring dwarf actor Warwick Davies.
At a separate session yesterday, Gervais revealed that a spin-off from Life's Too Short featuring Shaun Williamson (aka Extras' "Barry off EastEnders"), Les Dennis and Keith Chegwin is a real possibility.
The writer and actor said: "I want to do a spinoff with Les Dennis, Keith Chegwin and Shaun Williamson. They are brilliant. Not ironically. They are brilliant naturalist actors."
Gervais also admitted that he has been approached on several occasions in the US - including by one of the big networks - to host his own late-night chat show along the lines of those fronted by Jay Leno and David Letterman, but had turned them down, preferring to create, write and direct his own TV projects.
Share this page