Hi-De-Hi! reunion
Hi-De-Hi! cast to reunite for online Q&A
Cast members from hit 1980s sitcom Hi-De-Hi! are to reunite for an online Q&A
The live stream will take place from 7pm on Wednesday 25th November on platforms including YouTube
Su Pollard (Peggy), Ruth Madoc (Gladys) and Jeffrey Holland (Spike) are amongst those taking part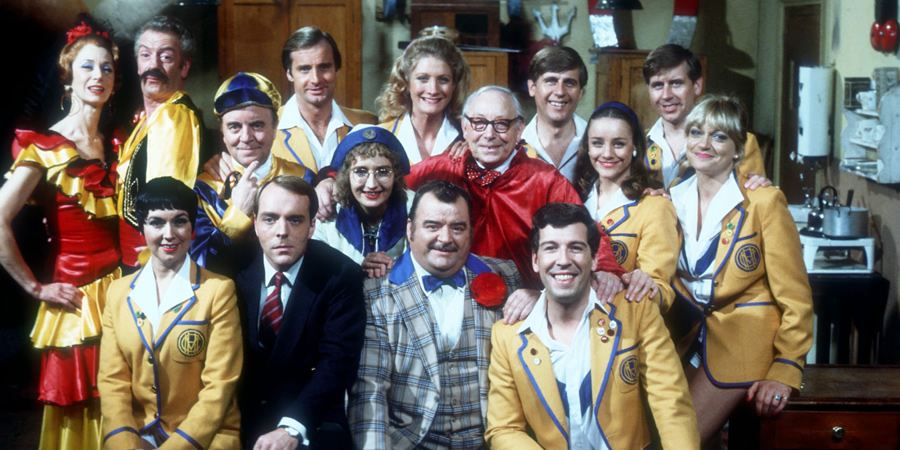 The cast of hit 1980s holiday camp sitcom Hi-De-Hi! are to reunite online.
A live Q&A stream has been organised for Wednesday 25th November.
Six of the sitcom's stars are confirmed as taking part in the event:
Su Pollard, who played chalet maid Peggy Ollerenshaw.
Ruth Madoc, AKA camp organiser Gladys Pugh, who gave the announcements on the loudspeakers.
Jeffrey Holland, who played the camp's comedian, Spike Dixon.
Nikki Kelly, who took on the role of Yellowcoat Sylvia.
David Webb, who starred alongside his identical twin Tony, as a Yellowcoat.
Linda Regan, best known as Yellowcoat April.
Starting at 7pm, the live stream will be available via YouTube, Twitch and Periscope for free, with time set aside for fans to ask the stars questions.
The reunion has been organised by comedy writer and YouTube presenter Kevin Durham, who will also host the session. He says: "I'm really excited to bring the cast back together. It'll be interesting to talk to them about their time on the show, and what they have been up to since. Hopefully we can play some holiday camp games as well!"
Hi-De-Hi!, written by Jimmy Perry and David Croft, was set in Maplin's, "Britain's favourite holiday camp, where the sun-drenched summer never ends."
The comedy launched in 1980 and ran for eight series up until 1988. At its height, it was getting over 20 million viewers.
The show also starred the late Simon Cadell as Jeffrey Fairbrother (he died in 1996) and Paul Shane, who passed away in 2013, as Ted Bovis. Other cast members who are no longer around include Leslie Dwyer (Mr Partridge), Kenneth Connor (Sammy), Felix Bowness (Fred), Diane Holland (Yvonne) and Barry Howard (Barry).
Update: Here's the video...
---
For updates, click the button below.
Share this page