The Tuckers Series 2 and 3
The Tuckers to return for two more series
The Tuckers is to return for Series 2 and Series 3 on BBC One Wales
Filming has been delayed on Series 2, so the BBC has committed to filming two series back-to-back in 2021
Writer and star Steve Speirs says: "People can expect to get to know the family a lot better"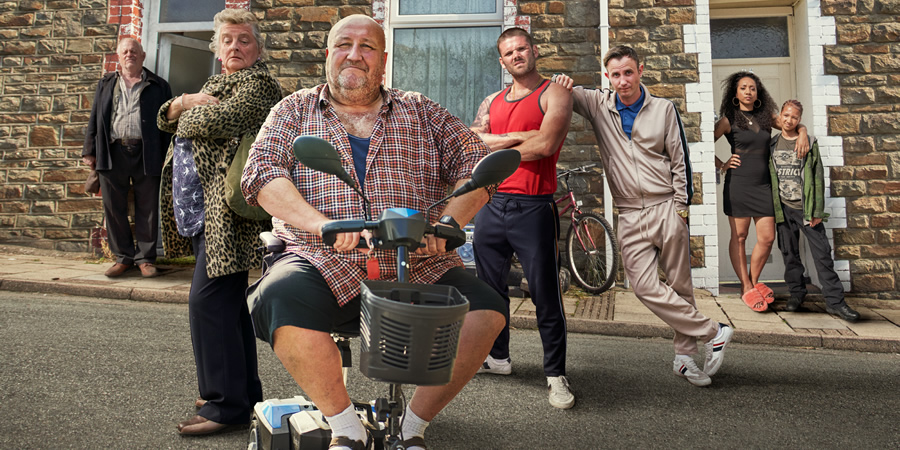 Steve Speirs is making two more series of his sitcom for BBC One Wales.
The writer and performer revealed on the Aled Jones programme on BBC Radio Wales that The Tuckers would return for a second and third series.
Series 2 was due to be filmed this summer, but production has been delayed due to the Welsh lockdown. The BBC has taken the opportunity to commit to filming two series back-to-back in 2021 instead.
The sitcom follows the fortunes of the Tucker family, a close-knit extended family of 'loveable rogues' who earn their living in a number of ways - many of which are on 'the wrong side of the law'. It was piloted in 2018, before becoming a series in January 2020.
Cast members Lynn Hunter, Robert Pugh, Kimberley Nixon and Alexandria Riley are confirmed as taking part in the new episodes.
Steve Speirs says: "I am so thrilled that The Tuckers is coming back for two more series. It's a testament to the ongoing support from BBC Wales and the amazing fans who took the show to their hearts so quickly and in big numbers. People can expect to get to know the family a lot better: Their lives, their loves, their fears. There'll be a bit of heartache for them along the way no doubt, but mainly laughs. I think that's what we need right now. Laughs. And Lots of them!"
Commissioner Nick Andrews comments: "Just like all fans of The Tuckers, we wanted to see more of them. It's a warm, genuinely funny comedy that's firmly rooted in Wales but has also been enjoyed extensively across the UK via iPlayer. Series 2 should have been filming this summer but quite rightly that couldn't happen. Commissioning two further series at the same time demonstrates BBC Wales' real commitment to backing brilliant projects developed by home-grown Welsh talent."
BBC One Wales also confirmed today that sketch show Age Of Outrage will return for a full series, following the success of the pilot.
Series 2 and 3 of The Tuckers will be produced in Wales in the summer 2021.
---
For updates, click the button below.
Share this page