Jennifer Saunders car show
Jennifer Saunders to present ITV talk show in a car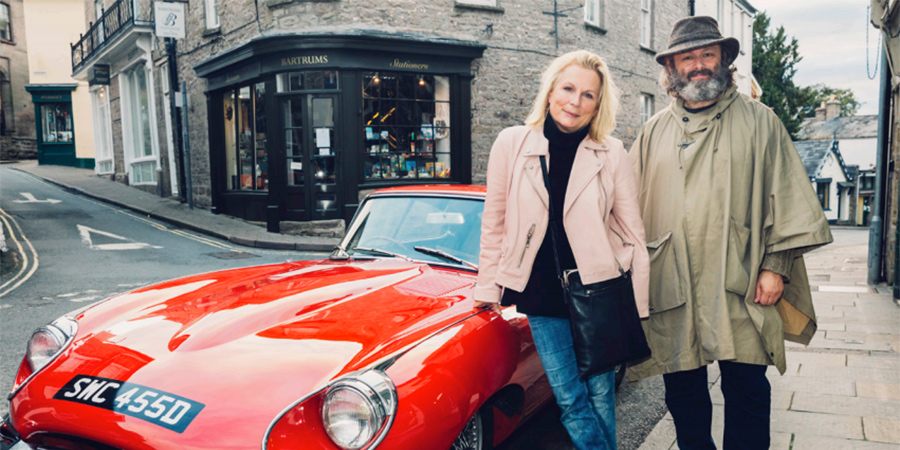 Jennifer Saunders is to present Memory Lane, a ITV talk show in which she drives a guest around in a 1960s E-Type Jaguar.
An episode - believed to be a pilot - has been filmed with actor Michael Sheen. Together they will drive around locations in Wales which Sheen remembers from his youth.
The duo are currently both team captains on the panel show There's Something About Movies, so know each other well.
ITV explains: "Jennifer Saunders slips behind the wheel of a classic red Jaguar E-Type for this special show. Joined in the passenger seat by guest Hollywood actor Michael Sheen, Jennifer drives him on an emotional journey through his own past. With cameras inside the car, every intimate moment is captured as Michael and Jennifer visit places and people that have helped shape the global star he is today.
"Michael's revealing journey down memory lane takes Jennifer through the streets of Port Talbot where he grew up, stopping at key locations for personal stories from his childhood right up to the present day. Drawing on evocative family photos and colourful local archive, Michael's recollections are by turns funny, surprising and incredibly poignant.
"Port Talbot is a famed for its industrial heritage and striking skyline, yet has also produced some of the greatest Welsh actors of all time - Richard Burton, Anthony Hopkins and now Michael Sheen. What is it about this remarkable town, and Michael's path through it, that is such a catalyst for success? And having lived the life of a movie star in Los Angeles, walking the red carpets of London, Cannes and more, what motivated Michael to come home and resettle in South Wales?
"With her wit, charm and empathy - alongside a great love of cars - Jennifer is the perfect host for this celebration of a journey through her guest's past. This is the journey of a lifetime, his lifetime and there is no better guide and confidante than Jennifer."
This will not be the first talk show set in a car. In 2010 Red Dwarf star Robert Llewellyn presented Carpool on Dave. Subsequent formats have included James Corden's Carpool Karaoke and Jerry Seinfeld's Comedians In Cars Getting Coffee.
Speaking about the car setting, producer Graham Stuart told trade magazine Broadcast: "They are a place where people have the most intimate conversations and we wanted to capture that on-screen. Asking people to tell you about a journey that means something to their lives and then actually driving it surrounds them with images which trigger their memory and it becomes very powerful indeed."
Stuart said the Absolutely Fabulous star makes for a great host. "Jennifer is a highly intelligent woman who was very comfortable with Michael and loved the car," he said. "Memory Lane combined two of her favourite things: driving and talking."
The Michael Sheen episode of Jennifer Saunders' Memory Lane will be broadcast as part of ITV's Christmas and New Year schedule.
In other news, it has been revealed today that Saunders and her double act partner Dawn French are winding down their production company. Saunders & French Productions, which has been operating for nearly 30 years, is in the process of being closed. The duo are expected to continue to work together - they recently released a podcast series for Audible - however, will now work via other production companies.
---
For updates, click the button below.
Share this page
The image and content of this story was updated on 11th November, as
ITV
provided more details on the programme