Stath Lets Flats Series 3
Stath Lets Flats returning for Series 3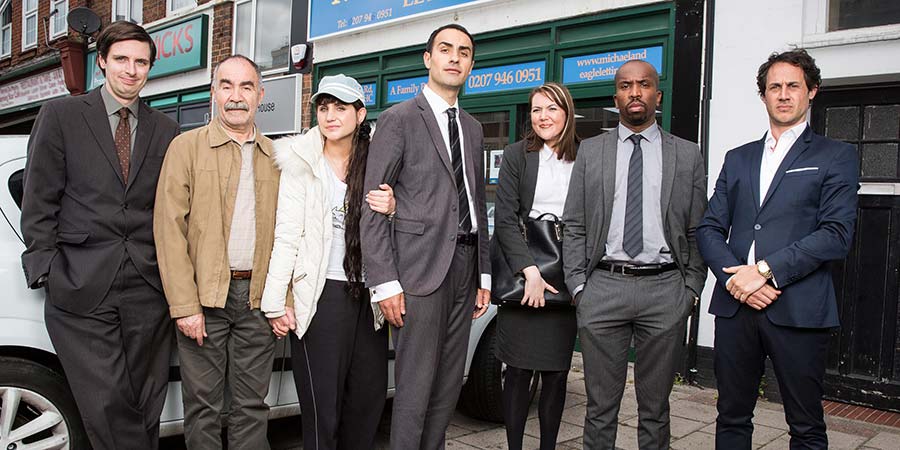 Stath Lets Flats is returning for a third series.
The Channel 4 sitcom about a hapless letting agent won three Baftas this year, including best scripted comedy and best writer and male performance for its star and creator Jamie Demetriou.
And now co-star Katy Wix has confirmed "there is going to be more.
"It's a very nice atmosphere" she told the Standard Issue podcast of being on set. "It's very ego-less, everyone's very generous as a group. Everyone really likes laughing at each other, it's nice."
Natasia Demetriou, Al Roberts, Kiell Smith-Bynoe, Ellie White, Dustin Demri-Burns and Christos Stergioglou also star in the hit sitcom, which Jamie Demetriou developed with Robert Popper (Friday Night Dinner). Tom Kingsley (Ghosts) directed the first and second series, which aired June 2018 and August 2019 respectively.
---
23rd October update: Channel 4 has now officially confirmed they've ordered six more half-hour episodes.
Referring to the plot, they comment: "Incompetent letting agent Stath is faced with rescuing the family business, Michael & Eagle, and his relationship with Katia, while expecting his first child by Carole. Meanwhile his sister, Sophie, and best friend, Al, deal with the fallout of finally declaring their feelings for each other."
Jamie Demetriou says: "This is lovely. I love Channel 4. Thanks so much for having us back for a Series 3. Sorry the title is still hard to say. Love Jamie Demetriou from Stalph Les Flav".
The character of Stath adds: "Thank you so truly for this energetically and development news. I never seen something on Channel For (4) in my life, but someone told me they done a programme about people being embarrassed about their body. Which is a shame. I'm proud of my body, even though my eyebrow is a bit too wide and I'm panickin' it's joinin' to my head hair."
Channel 's Fiona McDermott says: "Stath's irrepressible and bewildering approach to life, love and business is just what the nation needs right now. We're so proud of Jamie and the team's multiple award-success and delighted that we can celebrate this roster of incredible domestic talent by backing another series".
Ash Atalla from producers Roughcut TV adds: "So happy to be back making Stath 3 with the team after their stunning BAFTA success. As long as things continue to go well, I'm right behind them."
---
The core cast reunited for a lockdown special in May that was broadcast on YouTube, stoking anticipation for further episodes.
Following lukewarm initial reviews for the first series, the second attracted considerable acclaim, with the Guardian calling it "a daft, sweet comedy with a perfect sprinkling of cringe". The i newspaper praised it as a "superlatively weird sitcom", adding that "it is total chaotic silliness, but each character has grown more carefully-drawn in this second series and the relationships are even more tender."
Demetriou has revealed that the origin of his idiotic eponymous character was "the voice.
"Before I got the commission, I had been doing live stuff for four or five years" he told the Vulture podcast last week. "In that time, I'd tried to just work out what voices I can do that have whole lives behind them and aren't just sketch characters.
"Growing up, meeting loads of Greek people and sort of living in a community full of mixed Euro-English accents, and being around a lot of thick people - including myself - feeling stupid. This one felt like I'd know what the character would say in any given scenario. And I'd do it under various banners - like a guy who owns a kebab shop, a schoolboy, a guy on the phone.
"Then I got offered these three online shorts off the back of writing some sketches on spec for a sketch show on Channel 4. We felt like a letting agency was a great backdrop for this kind of five-minute short, because the whole short was effectively going to be me showing someone around the property. We felt like it was a really funny job, because ultimately the thing that's going to stop you from renting or taking a property is the guy in there smashing stuff and accidentally pointing out bad things.
"Like, they're better off waiting outside. The number of properties that I've tried to rent (and I've really liked!), but I've been like, Ugh, I'm gonna have to hang out with this guy for as long as I'm living there or contact him if I need anything, so I'm out of the picture. We thought that was quite funny. Kind of an oxymoron, I suppose."
Channel 4 originally told British Comedy Guide they were unable to confirm the recommission.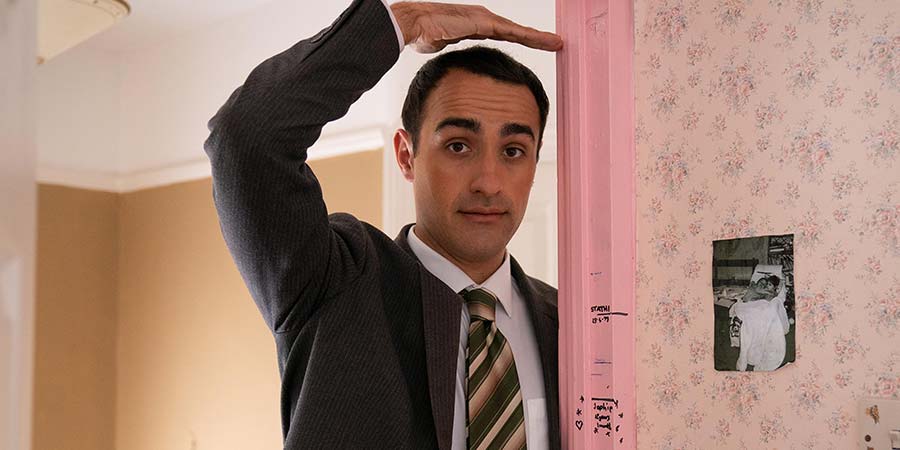 Demetriou will next be seen in the Louis Wain biopic starring Benedict Cumberbatch as the artist, directed by Will Sharpe (Flowers, Defending The Guilty), with the comedian playing the artist Richard Caton Woodville Jr.
He has also shot the role of Gerald, with Joel Fry as his fellow henchman, Jasper, in Disney's upcoming live action 101 Dalmatians prequel Cruella starring Emma Stone.
---
For updates, click the button below.
Share this page