Big Zuu's Big Eats Series 2
Big Zuu's Big Eats to return to Dave
Big Zuu's Big Eats is returning for a second series
Two hour-long specials will be shown at Christmas, and a 10-part Series 2 in 2021
The cooking show will expand to visit musicians and sports stars as well as comics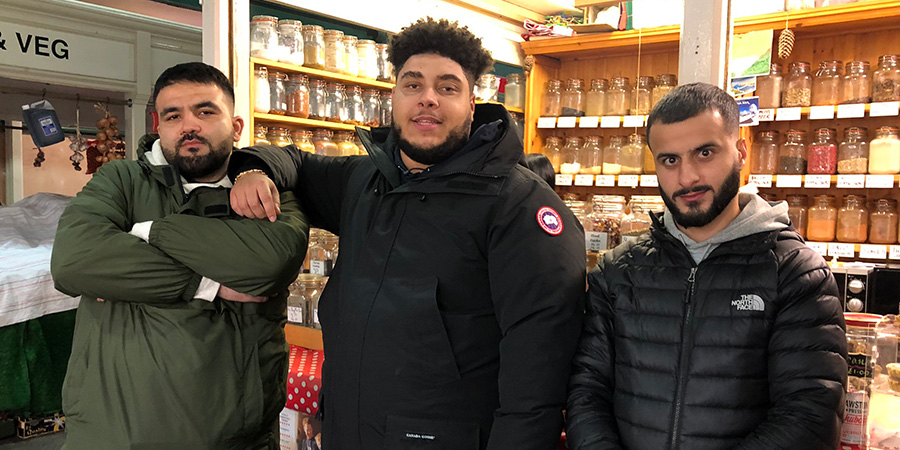 Comedy cooking show Big Zuu's Big Eats is to return to Dave, the channel has announced.
Fronted by grime artist and keen cook Big Zuu, and assisted by his school friends Hyder and Tubsey, the format sees the trio travelling the UK to prepare bespoke meals for entertainers.
Series 1, which was filmed late in 2019 and broadcast from May, saw them take their food van to comedians on tour, cooking for the likes of Jimmy Carr, Guz Khan, Rosie Jones and Lou Sanders.
The second series will consist of another 10 episodes, plus two hour-long specials, made by Cardiff-based production company Boom.
Dave owner UKTV explains: "Not content with just cooking for comics, the second series will see Zuu and friends also cook for some of the biggest names in music, sport and television. Two special episodes will air later this year including a Music Special and a Comic's Christmas episode.
"In Comic's Christmas, Zuu finally lets Tubsey and Hyder meet some of the comics from Series 1, all back for a fine festive feast. The second special will see Zuu and the boys cook for some of the biggest names in music, including Loyle Carner, JME and Julie Adenuga as they dish up their dream Christmas meals."
The trio posted the following video message on Twitter:
See tweet
Big Zuu said: "I'm so happy we're able to bring back Big Eats for a series two. I feel like the first season was received so well and we managed to build a cult following of people who really loved all the different aspects of the programme. You can expect the same jokes and amazing food on series two just bigger and better in every way. Me, Tubsey and Hyder can't wait to start filming!"
Series 1 attracted an average of around 100,000 viewers in overnight ratings for its 10pm timeslot on Friday nights.
Commissioning editor Natalie Rose says: "The brilliance of Zuu, Hyder and Tubsey - along with honesty and the distinctiveness of this format - has proved a hit across the board and I am beyond excited to have it back for a second series. Viewers can look forward to more side-splitting content, but this time, with a much broader mix of talent. I'm so proud to be working with Zuu and the boys and continuing to make a commitment to nurturing young, diverse talent on Dave."
Channel boss Luke Hales adds: "We love this show and the whole team at Dave are so happy to be bringing more Big Zuu to our wonderful viewers. Natalie and the team at Boom have done a brilliant job of putting a unique format together with an exciting new host and making a truly great show that feels completely different. Zuu's warmth, humour and talent leaps off the screen and that, along with the awesome food, his hilarious best mates and the fantastic guests makes for really entertaining TV that just makes you smile."
Sam Grace, Creative Director at Boom, said: "Zuu is a brilliant talent who has an incredible ability to combine comedy, cooking and music in his own unique way. He's already shown that he can cook mouth watering food for comedians on tour - and so its no wonder that other stars are lining up to be fed by him, Tubsey and Hyder. We're delighted to be working with him and UKTV again."
The two specials will air later this year on Dave, with the full Series 2 to broadcast in 2021.
The channel previously aired a similar format, Eat Your Heart Out With Nick Helm.
---
For updates, click the button below.
Share this page