Worzel Gummidge's Saucy Nancy
Worzel Gummidge to return for new special, Saucy Nancy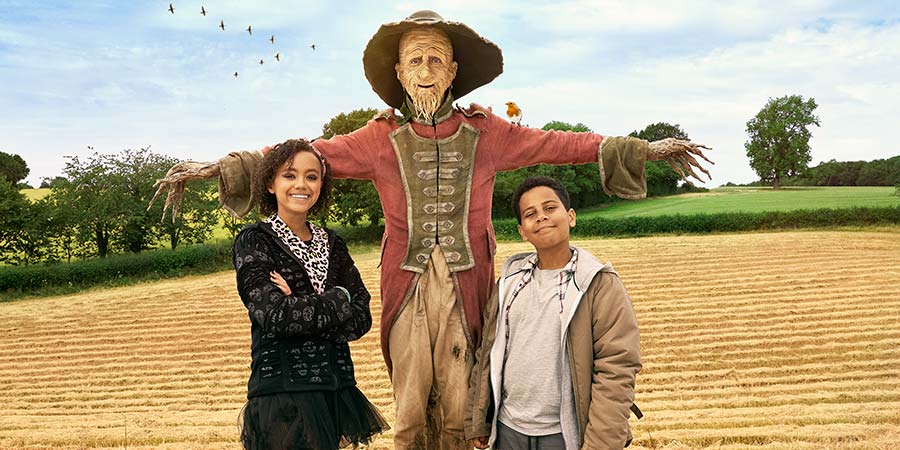 The BBC has confirmed that the new version of Worzel Gummidge, written, directed by and starring Mackenzie Crook, will return to BBC One later this year.
A third, hour-long special will be entitled Saucy Nancy.
The producers say: "Mackenzie Crook has written another beautifully crafted and magical episode, inspired by the classic books by Barbara Euphan Todd, which he will direct and star in, bringing a world of adventure to all the family."
Talking about the plot of the new hour-long episode, the producers explain: "When Worzel Gummidge, Susan and John visit a scrapyard, Worzel overhears the grumbling of a foul-mouthed old friend - a carved ship's figurehead, Saucy Nancy. She has been languishing, unsold in the yard for years and longs to return to the sea. Worzel and the kids promise to get her there, but will her ship be waiting? Worzel doubts it, but Nancy is convinced. She can feel it in her carvings.
"Adventure unfurls, as the strange foursome navigate their way to the coast on foot, by bus, wheelbarrow, motorbike and sidecar. It was never going to be straightforward. In a rare trip out of Scatterbrook, Worzel gets to see a wild moorland and the spectacular white cliffs of Seashell that provide the backdrop to this story of friendship and belonging."
Mackenzie Crook will return as Worzel Gummidge, with India Brown and Thierry Wickens reprising their roles as the young Susan and John.
Shirley Henderson, who played Jude in the three Bridget Jones films and was Moaning Myrtle in the Harry Potter film series, will take on the role of Saucy Nancy. In the 1979 - 1981 TV version starring Jon Pertwee, Nancy was played by Barbara Windsor.
It has also been announced that multi award-winning actor Vanessa Redgrave will play Peg. Further casting will be announced soon.
As previously reported, British Comedy Guide understands more episodes had been planned, but it would appear due to coronavirus safety restrictions it is only proving possible to film one new episode this year.
Mackenzie Crook says: "I'm excited and grateful to be making a new episode of Worzel Gummidge after a difficult year for everyone. We're heading out of Scatterbrook for this story on a day trip to the seaside, some fresh air and some wide open space."
BBC commissioner Shane Allen, referencing Crook's previous sitcom Detectorists, adds: "What is it with Mackenzie and shows set in a field? Following on from last year's bucolic eco-fables we find Worzel in mischievous form dispensing his sun-baked wit and wisdom in another heartwarming tale. This cements BBC One's unique reputation as the home of UK family comedy drama."
Saucy Nancy will be shown on BBC One at Christmas.
---
For updates, click the button below.
The brand new BBC adventures of Worzel Gummidge.
Inspired by the classic books of Barbara Euphan Todd, Worzel Gummidge is the treasured tale of a witty, mischievous scarecrow who mysteriously comes to life. Now reimagined for a modern audience and with CGI technology bringing the characters back to the screens, Worzel Gummidge is a comedic, magical fantasy for all ages.
Written by and starring the multi BAFTA Award-winning Mackenzie Crook (The Office, Detectorists), Gummidge returns for two new adventures, The Scarecrow Of Scatterbrook and The Green Man. The series is a timely and revealing examination through humour of how everybody needs a place to call home... including scarecrows.
Starring Mackenzie Crook, Michael Palin, Rosie Cavaliero, Steve Pemberton, Thierry Wickens, Vicki Pepperdine & Zoe Wanamaker.
First released: Monday 6th April 2020
Distributor: Dazzler
Region: B
Discs: 1
Minutes: 120
Subtitles: English
Buy and sell old and new items
Search for this product on eBay
Distributor: Dazzler
Region: 2
Discs: 1
Minutes: 120
Subtitles: English
Buy and sell old and new items
Search for this product on eBay
It looks like you're in the US? Fear not! Almost everything can still be ordered.
Amazon UK
deliver internationally,
Amazon.com
carries many items separately, or you can look out for US/Canadian flags on our product listings for direct links.
If ordering from a UK store, please note that you are in Region 1 (DVD)/Region A (Blu-ray), whilst the UK is in Region 2/B, respectively. This means that many - but by no means all - may fail to play. Look for products marked "Region free", "All regions", "Region 0" or "Multi-region". Blu-rays may also be marked "Region A/B/C", "Region free", or variations thereof. You may also check whether your DVD/Blu-ray player supports multi-region playback (also referred to as "region free"), or whether it can be set to do so. There should, of course, be no problems with books, CDs, or other physical items.
More advice & help on importing
Share this page