Sorry, I Didn't Know series
Black panel show Sorry, I Didn't Know returns for series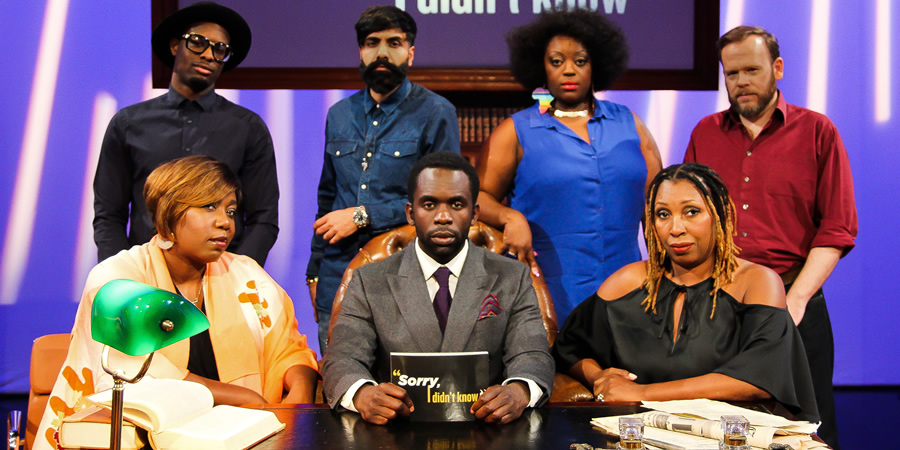 Panel show Sorry, I Didn't Know has been commissioned to series.
Questioning panellists on black history, the comedy was piloted in 2016 by ITV2 (pictured) and is hosted by Jimmy Akingbola.
Four half-hour episodes will broadcast this October, marking Britain's Black History Month.
ITV teases: "A classic comedy panel show... but altogether new. Sorry, I Didn't Know tests and teases players' and audiences knowledge of untold stories and unsung heroes... History... With a touch of colour."
They explain: "Barely held together by our host, Jimmy Akingbola, star of hit ITV sitcom Kate & Koji, and populated by raucous teams, Sorry, I Didn't Know is a riotous showcase of some of the hottest comedians from diverse backgrounds that we rarely see on such shows, as they embrace the gaping lack of knowledge we all have when it comes to black history.
"Sorry, I Didn't Know is bold, tongue-in-cheek and unapologetic, with something for everyone - no matter what their colour or demographic."
Created by Minnie Ayres and Fraser Ayres, the series is made by Triforce Productions, and was initially rejected for a series commission by the network.
Responding, in May this year, to a Tweet asking for a "black history and culture version of Mastermind", Akingbola replied: "We tried but unfortunately @ITV didn't want it and same goes for @BBCOne @BBCTwo @Channel4 @Channel5_tv @SkyTV. We are trying the USA now #DiversityandInclusion".
In July, he told Radio Times: "For us it was about making an inclusive show. Remember the days when people would watch Blockbusters or Catchphrase, the whole family together, chipping in with answers? Sorry, I Didn't Know was a comedy panel show that flipped the game in terms of what we're used to - white men being the captains, the token Asian guy, black guy, women...
"It really is frustrating and tiring when you get the same responses - 'we've got our own show', 'it's a bit niche' - or you don't get any response. Here's a show that's ready to go. It needs a home, it needs a commission, it needs someone to engage with us to help make it happen."
---
For updates, click the buttons below.
Share this page