Mawaan Rizwan & Jonathan Ross
Mawaan Rizwan to co-host Jonathan Ross' Comedy Club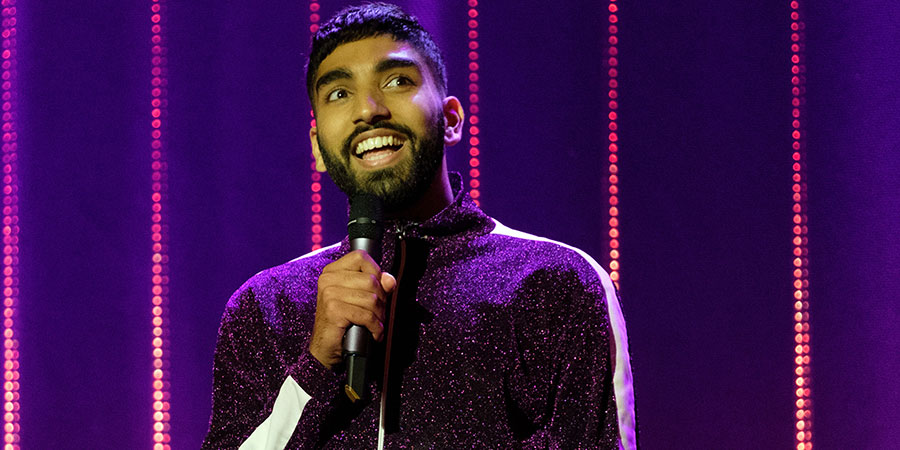 Mawaan Rizwan is to co-present Jonathan Ross' Comedy Club when the ITV stand-up showcase begins recording tomorrow night.
Acts appearing in the series, which is scheduled to air in the autumn, include Katherine Ryan, Tom Allen, Rob Beckett, Kerry Godliman, Kemah Bob, Adam Rowe and Fern Brady.
Rizwan's prominent sidekick role comes as the versatile stand-up and actor stars alongside Game Of Thrones' Maisie Williams in Sky's survival comedy Two Weeks To Live, airing from Wednesday 2nd September, as the hapless Nicky.
The comic is also one of the acts featured in Channel 4's inaugural series of Taskmaster, competing against Johnny Vegas, Katherine Parkinson, Richard Herring and This Country's Daisy May Cooper. Recently recorded, the tenth series will air on the terrestrial broadcaster in October, after the show was poached from its original home on Dave.
Named one of Forbes magazine's '30 Under 30' in Europe this year, Rizwan's screen credits include performing on Live At The Apollo and Harry Hill's ClubNite, writing for Sex Education and appearing in Simon Amstell's films Carnage and Benjamin, after he supported the former Never Mind The Buzzcocks host on tour.
He has also released three comedy songs as singles: I've Got A New Walk, Mango and Never Been Skiing.
The erstwhile cross-dressing, Pakistani-born comic, who is gay, also presented the 2015 BBC Three documentary How Gay Is Pakistan?, in which he met people in the country living gay and transgender lives despite constant fear of persecution.
Ross was accused of transphobia in March after tweeting his support for comedy writer Graham Linehan's views on trans issues, but subsequently clarified: "Those who know me will concede I try to be thoughtful & not a dick. Having talked to some people (OK, my daughters) re my earlier tweet, I've come to accept that I'm not in a position to decide what is or isn't considered transphobic.
"It's a wildly sensitive subject. Let's keep talking."
Earlier this year, Rizwan appeared on the Meet Me At The Museum podcast with his mother, exploring Brighton Museum & Art Gallery and its Museum of Transology.
"There's a lot of misinformation out there about the trans community I think," he reflected. "When you come into a space like this and you know it's been created by trans people it allows us to have a deeper understanding and human connection with some of these stories."
---
For updates, click the button below.
Share this page