Meet The Richardsons Series 2
Meet The Richardsons to return for Series 2
Meet The Richardsons is to return to Dave for a second series
Eight more episodes of the fly-on-the-wall mockumentary are being filmed, plus two Christmas specials
Lucy Beaumont says: "So glad to be getting paid to have an argument again"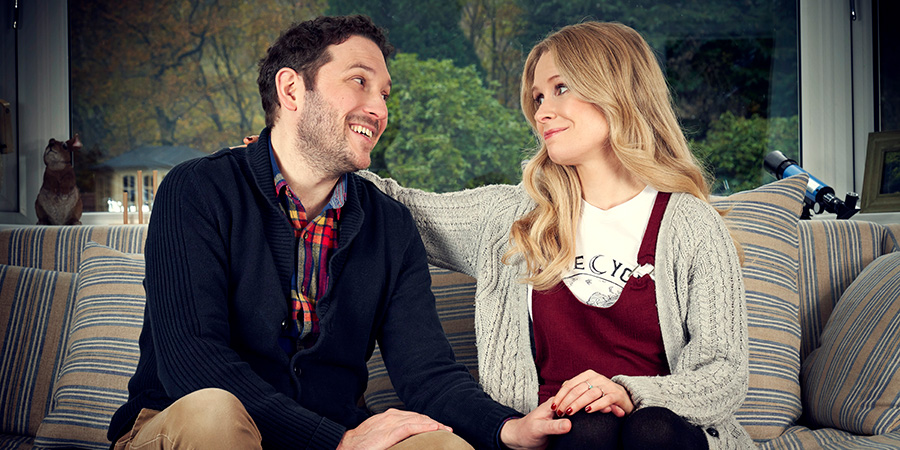 Meet The Richardsons is returning for a second series, British Comedy Guide can reveal.
Production is resuming on the Dave sitcom, which features comedians Jon Richardson and Lucy Beaumont playing heightened versions of themselves, and is loosely based upon their marriage and family life raising their three-year-old daughter Elsie.
The first series of the fly-on-the-wall mockumentary was Dave's second most-watched show through lockdown, attracting 1.13 million viewers on average, beaten only by the Red Dwarf feature-length episode The Promised Land.
Co-written by Beaumont with Tim Reid (Car Share), The Richardsons features the pair's real-life family and neighbours and has guest-starred Johnny Vegas, Jack Dee, Alan Carr and Rob Beckett among others.
Dave has ordered eight more episodes of the show, plus two Christmas specials.
Lucy Beaumont says: "So glad to be getting paid to have an argument again, lockdown has been weird living with someone who has spent his life practising social distancing and frequent hand-washing - if the Government advise wearing beige cardigans and being a tedious grump I know something has been going on."
Jon Richardson adds: "It's great news that there will be a second series of Meet The Richardsons. I can't wait to give away the few private moments of my life that aren't already in the public domain and welcome the crew back to "The D & B" with open arms. It was getting boring drinking alone in there anyway. Really. Fantastic stuff."
Commissioner Iain Coyle comments: "I'm so delighted with this commission. With his own pub in his back garden and his general reticence to socialise, there are very few people more prepared for a pandemic than Jon Richardson and I'm sure 2020 has put zero strain on his and Lucy's marriage."
Dave channel director Luke Hales says: "I couldn't be prouder of this show, Jon and Lucy have created something really unique, really relate-able and really, really funny. I'm so glad our brilliant viewers enjoyed the show as much as we do at Dave and the whole team can't wait to see how much Jon has enjoyed social distancing and isolation, how much Lucy hasn't, and what a Richardsons Christmas is like."
Beaumont is also currently developing an adult animation. She told Beckett and Josh Widdicombe on their Lockdown Parenting Hell podcast that "I am writing a cartoon but it's definitely not for kids. It's about a family of Welsh hamsters that think they're the Kardashians. Called The Hamdashians."
---
For updates, click the buttons below.
Share this page