Morgana Robinson to star in C4 impressions show
Morgana Robinson to star in C4 impressions show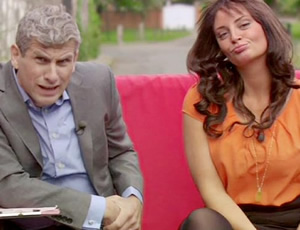 Up-and-coming comic actress Morgana Robinson, who took the lead in The Morgana Show, is set to appear in another sketch show for Channel 4.
The Sun reports that Robinson and Terry Mynott (who also appeared in The Morgana Show) are to front a new impressions show for the channel, provisionally titled VIP.
The Morgana Show attracted modest ratings when it was broadcast in November and December last year. Scheduled alongside the controversial Frankie Boyle's Tramadol Nights, it managed an average of less than 700,000 viewers an episode across the five-part series. However, Robinson was praised by the press for her acting and impressions ability.
Not much is yet known about the new series, but The Sun has published a clip from the show in which Robinson and Mynott pretend to be Daybreak presenters Christine Bleakley and Adrian Chiles, with the duo desperate to find viewers to watch their show...
VIP will be made by agent John Noel and his production company Running Bare Pictures. The Sun notes the sketch seems to be a response to the fact that Bleakley dumped John Noel as her agent when she moved to Daybreak. The paper quotes a source, who reportedly said of the sketch: "John's had this idea for a while. He feels really let down by Christine after she dumped him by text and flounced off to ITV. He told her that going to ITV would be a bad idea, and the ratings for Daybreak have proved he was right. In fairness, he still thinks she's a great presenter but this is just a bit of fun to remind her she was better off with him."
This new sketch show is one of a string of commissions by Channel 4, which has boosted its comedy budget by £5m in an attempt to find new comedy hits. In the last fortnight Channel 4 has revealed the line-ups for its Comedy Lab and Comedy Showcase strands, in which a total of 13 shows will be piloted.
VIP is expected to to broadcast on Channel 4 later this year.
Share this page