Omid Djalili's new show
Omid Djalili filming Comedians At Home Doing Nothing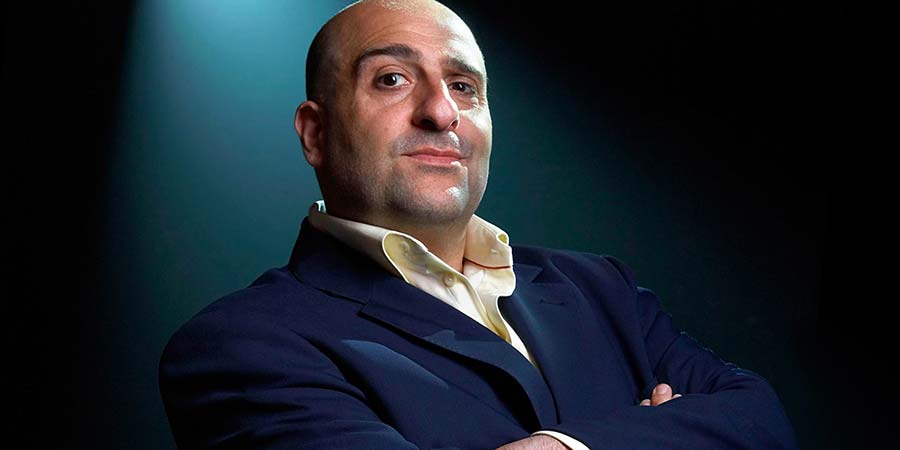 Omid Djalili is shooting a transatlantic lockdown comedy for television.
One of two TV shows that the Anglo-Iranian stand-up is currently developing, Comedians At Home Doing Nothing spoofs the interview format of Jerry Seinfeld's Comedians In Cars Getting Coffee.
"I did one with David Baddiel, I did one with [US Office star] Rainn Wilson, I'm doing one with Whoopi Goldberg" Djalili told Paul Hawksbee and Andy Jacobs on their Talksport radio show.
"It's A-list stars. There's a lot of people who have gone into hiatus and they're actually quite happy to do this."
Asked when the show is likely to air, he replied: "Hopefully they'll go out sometime in August. I can't really tell you which channel because there's a bit of a bidding war going on right now." He neglected to elaborate further on the second television project.
British Comedy Guide approached Djalili's agent for further details but was told that they "can't say too much just now".
Djalili starred in Baddiel's film screenwriting debut, 2010's The Infidel, and was a regular on Goldberg's short-lived 2003 sitcom Whoopi, which aired on NBC.
Djalili and Wilson both follow the Baha'i faith, a religion that originated in Persia in the nineteenth century. He previously appeared on the American's podcast, Baha'i Blogcast, in 2018.
Before the coronavirus pandemic, Djalili had been due to reprise his show A Strange Bit Of History to mark the bicentenary of the birth of Bahá'u'lláh, prophet founder of the Baha'i.
First performed at the 1993 Edinburgh Fringe, where it won a Spirit of the Fringe Award, the one-man play sees the comic portray a variety of comic and tragic characters, set against the backdrop of tumultuous expectation for a Promised One in the Persia of 1844.
Instead, Djalili's next performances will be a series of drive-in stand-up gigs at Brent Cross shopping centre in London, from 23rd to 25th July.
In an Instagram post in April, Wilson called Djalili "one of the most hysterical people on planet Earth", adding that "as an actor you've seen him in The Mummy and Gladiator as well as hundreds of other roles where he always plays essentially the exact same, rotund, wise-cracking vaguely ethnic Middle Eastern shyster."
---
For updates, click the button below.
Share this page