Stephen Merchant's deepfakes
Stephen Merchant developing deepfake comedy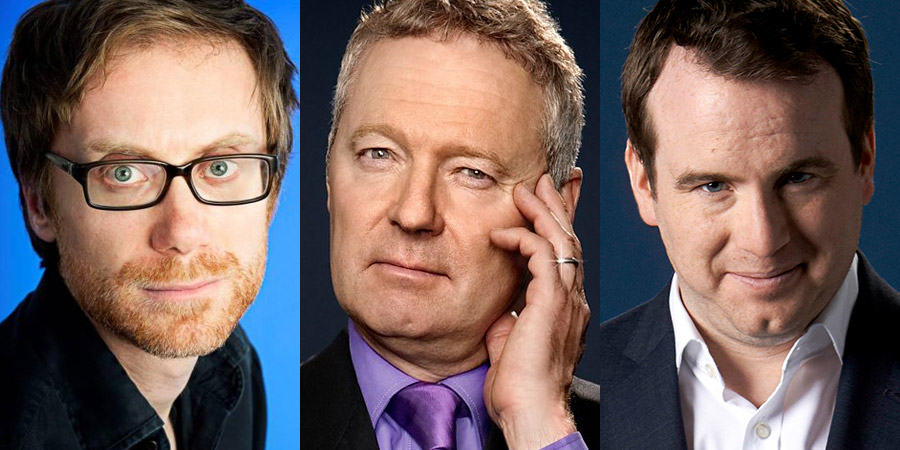 Stephen Merchant is developing a "deepfake" comedy.
The comedian, writer and producer has filmed a taster sketch with Rory Bremner and Matt Forde portraying Boris Johnson and Donald Trump, respectively.
Written by The Office creator, the project uses sophisticated synthetic media techniques to map the performances of the impressionists onto real footage of the Prime Minister and President of the United States, creating an extremely convincing likeness that puts words in the leaders' mouths.
The as-yet-untitled comedy has been in development for about a year, British Comedy Guide understands.
Filmed remotely during coronavirus lockdown, the sketch was directed by Paul Berczeller (Meet The Trumps) for Peep Show creators Sam Bain and Jesse Armstrong's production company, Various Artists Limited (Dead Pixels, I May Destroy You).
Posting images on social media prior to the digital manipulation of their faces, Bremner wrote: "Me and @mattforde (as Trump) recording a little something yesterday. Watch this space.... #borisjohnson #captaincorona #trump #satire".
See tweet
He also posted a video on Instagram:

Speaking on former Dead Ringers star Simon Lipson's Making An Impression podcast, Bremner said: "I did Boris ... and Matt was doing Donald Trump, he does Trump very well, he's a great gift to impressionists. Anyway, the reason we're doing this is because ... it'll go now into a computer and be mapped and calibrated against real Trump and real Boris. It's the deepfake software. They're going to do it in America."
Suggesting that the process is an evolution of the computer-generated Peter Mandelson he voiced on his 1997 Channel 4 show Rory Bremner ... Who Else?, the impressionist, who first worked with stand-up Forde for the 2015 BBC Two show Rory Bremner's Coalition Report, recalled: "They mapped my face and this Dutch guy would go 'ok, do the facesh, schmile, no schmile, schtinky' - which meant you had to screw up your face - 'laugh, open mouth...' and my mind went back [to virtually spoofing Mandelson].
"It should be so that you can't see that it's not the real people," Bremner continued. "I'll be really interested to know if it's too perfect, if it's because it looks too much like the person, [that it] won't have the joy, the frisson of realising that voice shouldn't come out of that person."
A spokesperson for Various Artists confirmed to BCG that it had "spent a day filming with Rory Bremner and Matt Forde. This project is currently not with a broadcaster."
Merchant, whose directing of new BBC comedy drama The Offenders in his native Bristol has been suspended due to lockdown, previously appeared in the 2016 US mini-feature Donald Trump's The Art of the Deal: The Movie, starring Johnny Depp as the president and featuring Henry Winkler, Patton Oswalt, Kristen Schaal and Christopher Lloyd.
Perhaps the most famous "deepfake" in Britain to date was a 2007 comic TV advert featuring Bob Monkhouse promoting a prostate cancer charity, some four years after his own death from the disease. Utilising an impressionist, lookalike, archive clips and an early form of the computer processing now available, it saw the comedian wandering around a graveyard and talking about his death.
Trump has previously suffered the indignity of being "shallowfake" impersonated by Alec Baldwin on Saturday Night Live, while footage of Boris Johnson has been manipulated so that he appeared to endorse political rival Jeremy Corbyn in the 2019 General Election.
However, a clip that went viral in October, in which American impressionist Jim Meskimen portrayed scores of celebrities, demonstrates the full capacities of the quickly-maturing artificial intelligence technology:

And more recently, stand-up James Veitch explored the dangers of deepfakes in an episode of his Radio 4 show, James Veitch's Contractual Obligation (Series 2 Episode 2).
Bremner, speaking to the More Than Mostly podcast, in which he disclosed Merchant's writing of the Johnson-Trump sketch, also confirmed that ITV's impressions game show The Imitation Game will not be returning.
"We did it for a series and then they've chopped it," he said of the 2018 comedy, which was hosted by Alexander Armstrong and featured Bremner and Debra Stephenson as captains.
"I think it's because it's too big a budget for too small a slot as it were, because executives tend to think in terms of budgets and slots and that's the way we are. I would have loved to have another series of that because I think we could have spruced it up a little bit, made it more spontaneous and certainly more topical.
"Because actually we ended up filming that 9 or 10 months before it went out. For me, I was bouncing off the ceiling thinking what's going to happen in these 9 or 10 months. If David Attenborough, for some reason, anything happens to him. Or Trump, you never know what he's going to do, so suddenly it looks very non-topical. You need to be recording within three or four days."
---
For updates, click the buttons below.
Share this page