Second series of The Trip to be filmed in Italy?
Second series of The Trip to be filmed in Italy?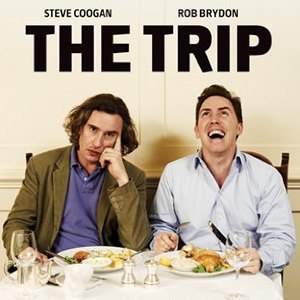 The Trip, the BBC comedy show starring Steve Coogan and Rob Brydon, looks set to return for a second series. Co-producer Andrew Eaton let slip yesterday that plans are underway to film a new six-part series in Italy later this year.
It is believed the format will be the same as the first series - Coogan and Brydon, playing characterised versions of themselves, will visit various restaurants, and the cameras will record their conversations over dinner and their travels between restaurants. The key difference being this time that, rather than frequenting eating establishments in the Lake District area, the duo will be travelling around Italy instead.
Coogan, Brydon and Eaton were appearing at a special BAFTA talk at the Film and Music Arena at Latitude Festival, where they were quizzed about their critically-acclaimed comedy by Blackadder and Vicar Of Dibley writer Richard Curtis.
Steve Coogan also revealed during the talk that the duo were un-sure whether the show was going to work, but took the risk and went ahead with the project. He said: "There was a 40% chance The Trip would be good, and a 60% chance it would be rubbish. Those are pretty good odds for me."
The Trip first aired on BBC Two in November 2010. Although it dropped heavily in the ratings over the course of the six-part run (starting with over 2million viewers, but dropping to under 1million by the end), it is understood the BBC is keen to make another series as the programme picked up an enthusiastic fan base.
The Independent's Brian Viner said: "There's been precious little else on the box these last few years that has got my wife and me shedding big fat tears of laughter.", whilst The Guardian concluded that The Trip was "one of the funniest things on TV." It was clearly a divisive programme though, as other critics were not so impressed. The Metro wrote: "With their endless flood of impressions, cynicism and one-upmanship, the pair were trying to convey to us what a nightmare it is to be in the company of show-off comedians, with all their demons of self-doubt. It worked."
Commercially The Trip has proved to be a success for the BBC. The corporation has re-edited the episodes into a film, which was released in the American market last month. The movie has received glowing reviews from papers including The Washington Post and The New York Times.
Here is the trailer for the film version:
The BBC has yet to officially comment on whether or not it has ordered a second series of The Trip.
Share this page