Kate & Koji to get Series 2
ITV to recommission Kate & Koji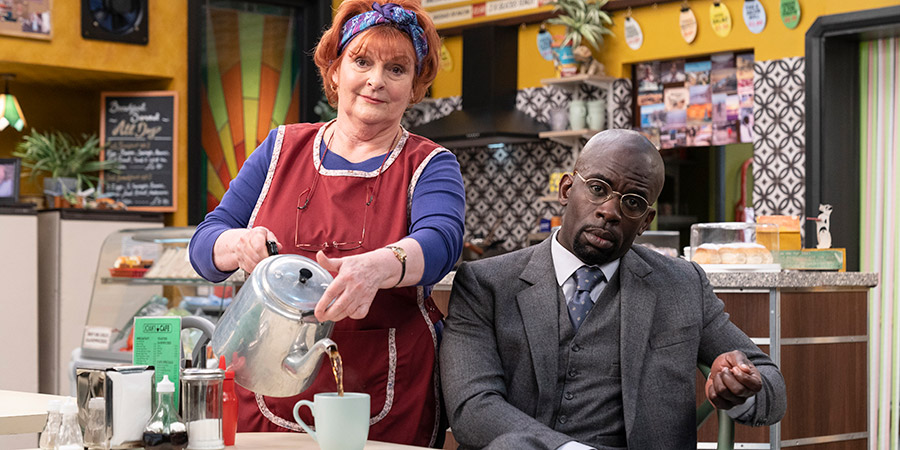 ITV is recommissioning its newest sitcom, Kate & Koji, British Comedy Guide can confirm.
Reports first surfaced in The Sun newspaper on Friday that the broadcaster is poised to order a second series of the comedy, and BCG has confirmed that the programme will be back on screens, likely next year after the coronavirus outbreak halted and delayed dozens of productions across the sector.
There is also potential for the show to return as a Christmas special later this year before a full series in 2021.
Created and written by Andy Hamilton and Guy Jenkin (Outnumbered, Drop The Dead Donkey), the sitcom follows life in a seaside café where an asylum seeking African doctor spends his days whilst unable to work.
Brenda Blethyn and Jimmy Akingbola star in the title roles of Kate and Koji, whilst Blake Harrison plays Kate's nephew, 'Medium' Dan; Barbara Flynn her long-term rival, Councillor Bone; with regular support from café customers Victor McGuire and Rosalind Ayres.
Produced by Hat Trick, the first series of six episodes aired on Wednesday evenings at 8pm from 18th March to 22nd April 2020. Initially sandwiched between episodes of Coronation Street, the sitcom quickly picked up huge viewing figures.
Whilst the covid production shutdown lead to the schedules changing and audience numbers dipping slightly, the series continued to perform strongly throughout. The first episode reached a 28-day consolidated audience of more than 6 million viewers, whilst the average across Series 1 tallied some 5.12 million a week.
British Comedy Guide understands that ITV executives were delighted with the performance of the comedy, and believe it could have grown its audience further if the covid lockdown and schedule changes not hit the industry.
ITV is expected to make a formal announcement about the nature of Kate & Koji's recommission later in the year, with production likely to begin in 2021.
---
For updates, click the button below.
Share this page