Channel 4 announce 2011 Comedy Showcase line-up
Channel 4 announce 2011 Comedy Showcase line-up
Channel 4 has announced details of the seven scripted comedy shows that will make up its Comedy Showcase pilot strand this year. Armstrong and Miller, Milton Jones, and Angelos Epithemiou are amongst the stars.
The broadcaster has previously run its Comedy Showcase pilot season in 2007 and 2009, and has found it a good way of developing new shows. Channel 4 says: "The first two seasons spawned full series of The Kevin Bishop Show, Plus One, Free Agents, Campus, Todd Margaret and PhoneShop. This autumn's new series has its sights set to replicate those successes."
The seven shows are:
---
A sitcom set during the First World War written by and starring Inbetweeners actors Simon Bird and Joe Thomas and long-term collaborator Johnny Sweet. Chickens follows the lives of three men who are not in the trenches: conscientious objector George, cowardly Herb, and Ivor who would love to go and fight but can't due to his flat feet.
---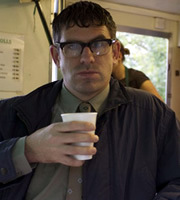 The Angelos Neil Epithemiou Show
Dan Skinner reprises his role as award-winning burger van owner and Shooting Stars scorekeeper Angelos Epithemiou in this new studio-based entertainment show. Described by Channel 4 as containing, "a full menu of slapstick, jokes, high energy dancing, catchy singing and sophisticated magic, it will involve the studio audience, introduce new comedy characters and play around with celebrities." Shooting Stars' Bob Mortimer is an Executive Producer.
---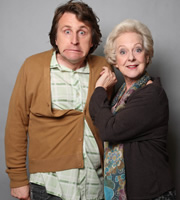 House Of Rooms
Starring and co-written by stand-up comedian Milton Jones, House Of Rooms is a single-camera sitcom set in a house where Milton lives with his mother and their fellow tenants. Tenants include Alice, who can't quite communicate with Milton (who's equally awkward with her), and new resident Paul. Friction is caused when Paul and Alice get on well straight away.
---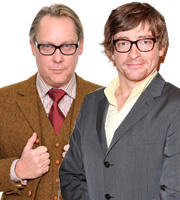 The Fun Police
A new sitcom filmed in front of a live studio audience starring Vic Reeves and Flight Of The Conchord star Rhys Darby. The Fun Police follows the staff of a less than competent Health and Safety team at the fictitious Brightsea Council. With the last boss hospitalised by an accident in the workplace, new boss Lance (Darby) steps up, but he has some questionable management skills.
---
A single camera comedy about a group of four female friends who are united by a shared history but divided by everything else. Coma Girl is set in an intensive care unit, where Lucy (Anna Crilly) is in a coma. Every month she is visited by her old school friends, failing TV presenter Siobhan (Sarah Solemani), reluctant mother of three Sarah (Katy Wix) and pseudo bohemian Pip (Katherine Parkinson).
---
A 'gag packed' studio sitcom starring Alexander Armstrong and Ben Miller. Written by Men Behaving Badly's Simon Nye, Felix And Murdo is set during the 1908 Olympics, the first time the Games were in London. We witness the duo indulging in drink and drugs whilst simultaneously competing in the Olympics with no training whatsoever.
---
Written by Dan Maier (TV Burp, You Have Been Watching), The Function Room (a working title) is a studio sitcom pilot set in a pub function room. In the pilot episode the pub is being used for a local community 'Meet The Police' event, with residents quizzing local officers about crime in the area. The cast for this sitcom has yet to be announced.
---
The seven pilots will be broadcast this autumn on Channel 4.
Channel 4 has also announced another comedy pilot. The Mad Bad Ad Show is a 45-minute long panel show from Objective Productions. It will feature teams led by Mark Watson and Micky Flanagan looking at the murky world of marketing. The pilot will be filmed later in the month.
Channel 4 will also be running another Comedy Lab season of pilots later in the year, details of which are expected to be announced shortly.
Share this page