Plebs to end with special
Plebs is to end with feature-length special
The new finale episode will see Marcus, Grumio and Jason joining the Roman army
Filming was due to take place in Bulgaria this summer, but may now be delayed due to travel restrictions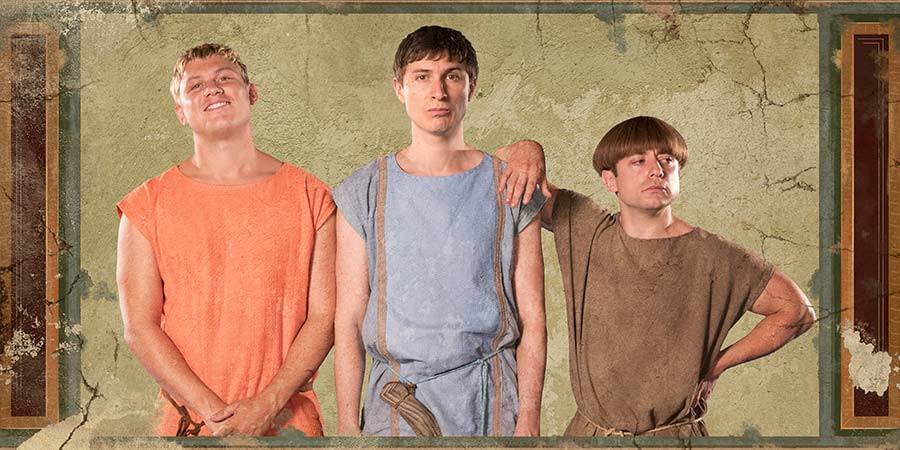 The producers of Plebs have today confirmed that the sitcom will return with a finale special rather than a full series.
The ITV2 sitcom has run for five series to date. British Comedy Guide reported in March that further filming was due to take place.
It can now be confirmed that this is for a single feature-length finale episode rather than a full sixth series. It will see the three central characters enlisting in the army.
Talking to The Sun, director Sam Leifer said: "After five series, we wanted to go out with a bang. So we're sending the plebs off to join the army. Unsurprisingly, they won't cover themselves in glory or return as conquering heroes."
Tom Rosenthal, Ryan Sampson and Jon Pointing will star in the special, which has again been written by Leifer and Tom Basden.
The comedy launched in 2013. Series 5 was broadcast in September and November 2019, and has continued to attract large audiences to the digital channel throughout its run.
Plebs focuses on a trio of very average 20-somethings living in the ancient metropolis of Imperial Rome: Marcus (Rosenthal); his argumentative slave, Grumio (Sampson); and friend and flatmate, Jason (Pointing). Having in recent series run a bar in the city, it seems the trio will now give up on the floundering venture and enlist for military service.
Filming was due to start on the special in May, for television transmission expected in the autumn. However, both production and broadcast may now be delayed due to travel and social restrictions amidst the global coronavirus pandemic. The sitcom is produced at Nu Boyana Studios in Bulgaria.
Talking to The Sun about the forthcoming filming, Leifer said: "Personally, I'm looking forward to watching Tom [Rosenthal] crawling on his hands and knees through the mud."
When approached previously by BCG, ITV declined to comment about the future of the show. Further details will be revealed at a later date.
---
For updates, click the button below.
Share this page