Feel Good Series 2
Work begins on Feel Good Series 2
Mae Martin's sitcom Feel Good is likely to return for a second series
Martin says: "I'm interested to see if Mae actually wants to figure her shit out"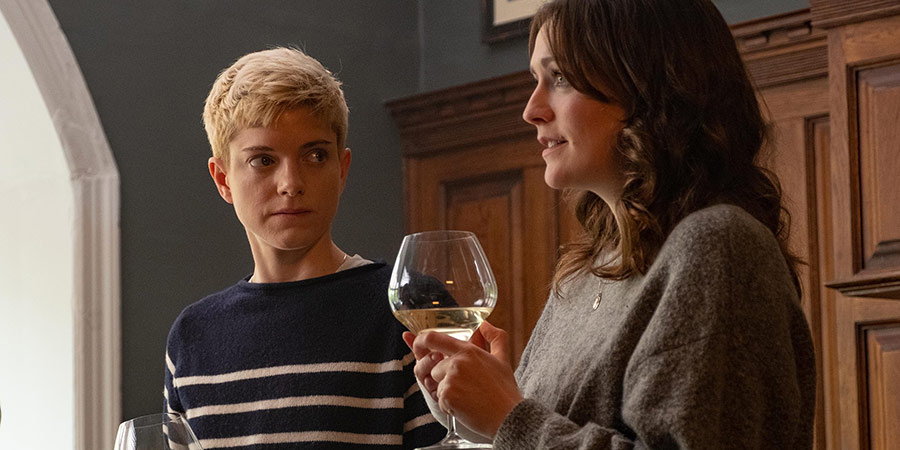 Feel Good's second series will be split between the UK and Canada, Mae Martin has said.
The Channel 4 and Netflix sitcom, which finishes its first run of episodes on terrestrial television tonight, has yet to be officially recommissioned.
However, Canadian comic Martin, who stars as stand-up comedian and addict Mae in the semi-autobiographical comedy, with Charlotte Ritchie as her new girlfriend George, has revealed that she and co-writer Joe Hampson have been commissioned to produce more scripts.
The pair have written three more episodes already. They want to see if Mae and George's relationship "can transform itself from a toxic one to a more long-term one", Martin told Canadian LGBTQ website Xtra.
"I'm interested to see if Mae the character actually wants to figure her shit out or if she's more comfortable in discomfort. I want to go to Canada for a bit. Loads of stuff. But no spoilers."
A spokesperson for producers Objective Fiction confirmed to British Comedy Guide that "Channel 4 and Netflix have commissioned script development for Series 2 of Feel Good".
Martin, who has performed stand-up about her summer camp experiences, added: "I'd love to go and film at my old summer camp in Aga Khan Park [in Toronto], by a lake, get in the forest. I feel Mae and George have never set foot in nature. They seem so in their heads and their phones. I would love to put them in nature and see what happens."
Martin also confirmed to US entertainment website E! News that she was "rooting" for the couple: "I want them to end up together, but I like the ambiguity of whether that's a healthy or unhealthy relationship, we're getting into that."
Reflecting Martin's own struggles with drug addiction and relationships, the sitcom also features Lisa Kudrow (Friends) as Mae's Canadian mother, Linda; Adrian Lukis as her English father, Malcolm; plus Phil Burgers and Sophie Thompson.
Reviews for the first series of Feel Good started positively and got stronger as the series progressed, ultimately commanding a 100% score on the Rotten Tomatoes critical aggregation site.
The Daily Mail called its central love affair "sweetly appealing" whilst the Metro thought that "when something this excellent is crafted, it's only natural to cry out for more and it's so arduous having to patiently sit tight for more should a second season get the go ahead (which it absolutely must)".
News about a formal recommission of the series is expected later in the year.
---
For updates, click the button below.
Share this page