Lee And Dean ends
Channel 4 passes on Lee And Dean Series 3
Channel 4 has opted not to order a third series of builder-based sitcom Lee And Dean
Channel 4's budget is slashed, and it "never quite got the number of viewers to guarantee another run"
The creators say they have their fingers crossed that they'll be able to finish the story one day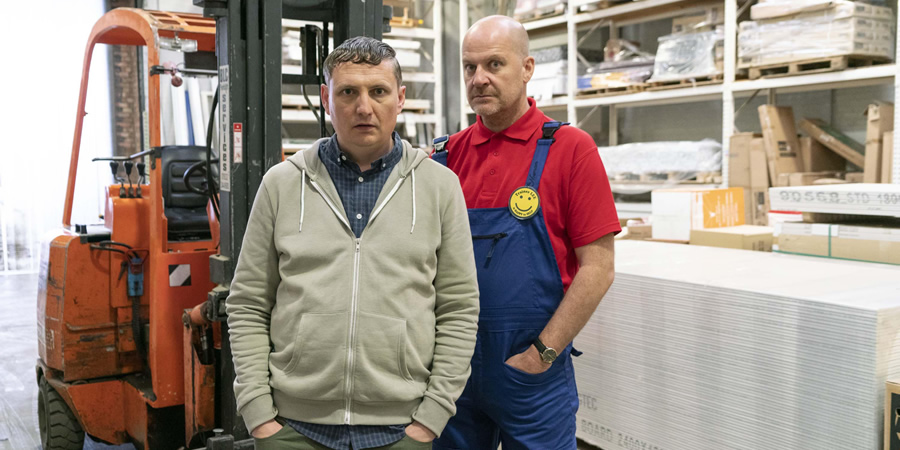 The creators of Channel 4 sitcom Lee And Dean have revealed the sitcom has ended after two series, as it didn't get enough viewers to guarantee a Series 3.
The show, which followed two builders and their complicated love lives, launched as a pilot on All4 in 2015. It became a series of Channel 4 in 2018, with the second series following in 2019.
In a statement posted on social media, writers and stars Mark O'Sullivan and Miles Chapman, alongside co-writer Sam Underwood and producer Martyn Jolly said:
We're really sorry to tell you that there won't be a third series of Lee And Dean.

It's a tough time in a tough industry (as with so many industries) and unfortunately we never quite got the number of viewers to guarantee another run. We're certainly not complaining - we can't thank Channel 4 enough for supporting us, encouraging us, having faith in us. And we're very excited about the other projects we're working on together, and elsewhere.

We had the best time making the two series. We became a family - everybody on and off camera - and we are lucky to have been brought together by something so special. We're made many friends for life from making our little show. Too many people to mention by name, but we love you all.

We'd also like to thank the wonderful fans who watched, shared, talked about, and recommended Lee And Dean, many of whom we now consider our friends as well. Thank you for following our story, for caring about our characters, for laughing and crying with us. We get asked daily about the show, and it's a source of joy that people care about it as much as we do, and are still discovering it. Please keep telling people about it.

We're sorry not to have an opportunity to finish the story - perhaps one day we will. Fingers crossed. And we're very pleased the characters themselves will live on in other formats.

Thank you a million times.

Mark and Miles and Sam and Martyn and the whole Lee And Dean team xx
The news follows on from the cast hosting a live stream watch-a-long on YouTube on Friday night.
Channel 4 is expected to reduce the number of comedy shows it is commissioning in light of coronavirus impacting on its finances. It recently announced that, with the TV advertising market expected to be down in excess of over 50% in April and May, it was having to reduce its content budget by £150 million, and find a further £90 million of savings across the organisation.
Chapman and O'Sullivan continue to play Lee and Dean in other formats. The duo are currently hosting Self-Isolating With Lee And Dean, a podcast series for trades-focused station Fix Radio.
---
For updates, click the button below.
Share this page