No more Timewasters
ITV declines more Timewasters
ITV2 has axed Timewasters after two series
The sitcom followed four black musicians accidentally transported to early/mid-20th Century
The channel has now declined to order a third series from writer and star Daniel Lawrence Taylor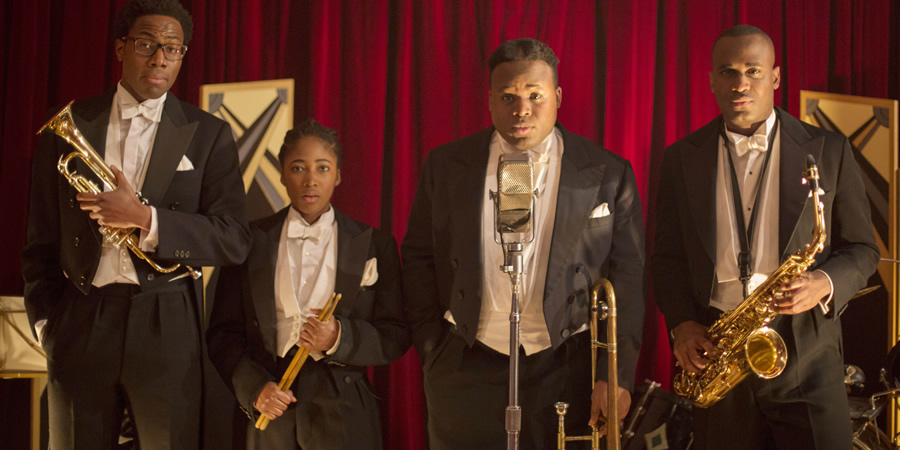 ITV2 has passed on a third series of time-travel sitcom Timewasters.
Debuted in 2017, the comedy saw a four-piece jazz troupe from Peckham, south London, transported back in time, to the 1920s in its first series and to the 1950s in Series 2.
Made by Big Talk Productions, the BAFTA-nominated and RTS Award-winning comedy was created, primarily written by, and starred Daniel Lawrence Taylor as band leader Nick; alongside Adelayo Adedayo as his sister, Lauren; and Samson Kayo and Kadiff Kirwan as friends Horace and Jason (pictured, left to right).
Exploring the experiences of black people living in Britain at different points during the 20th Century, the comedy had attracted a strong following, particularly amongst black and minority ethnic audiences, but British Comedy Guide has learned that ITV2 has declined to order a third series.
Taylor says: "Unfortunately Nick, Jason, Lauren and Horace won't be jumping back into the piss-ridden time machine for a third time. But like all good things, it had to come to an end.
"I hope you enjoyed watching it as much as me and the whole Timewasters team enjoyed making it. Thank you for your support, and thank you to ITV2 for putting my silly, frank and sometimes a little close to the bone humour on their channel. Lots of fun and exciting projects on the horizon so watch this space(-time continuum)."
Taylor is now developing new sitcom projects with Big Talk.
Timewasters was picked up for a US adaptation last year by major network CBS, under producer and musician LL Cool J. The project is still in development, and CBS Television had already partnered with the UK producers on the filming of Series 2.
Although set in Peckham, the two series were filmed on location in and around Liverpool due to its abundance of more historic, period-appropriate locations.
ITV declined to comment when approached and the exact reasons for their decision are not yet known, but it is likely that channel bosses felt it had not reached as wide an audience as they had hoped. Additionally, comedy commissioner, Saskia Schuster will shortly be leaving the broadcaster to take on a key role at growing production company Fulwell 73.
ITV's newest sitcom, Kate & Koji, begins on Wednesday at 8:30pm. It focuses on an African doctor stuck in a formerly-glistening seaside town whilst seeking asylum in Britain.
---
For updates, click the button below.
Share this page