Redknapps Weekend Warm Up
Sky confirms Redknapps' Weekend Warm Up series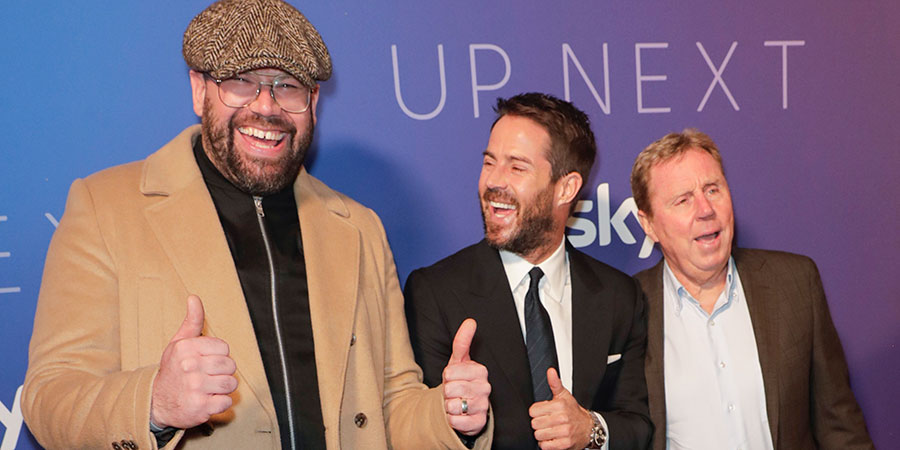 Sky has ordered a series called Redknapps' Weekend Warm Up.
The football-based entertainment show will be fronted by Jamie Redknapp, Harry Redknapp and Tom Davis.
Sky describe the format as "a new entertainment series hosted by football and entertainment star, Jamie Redknapp, his dad, footy legend and national treasure, Harry Redknapp, and his best mate, BAFTA winning comedian, Tom Davis.
"The manager, Harry; the player, Jamie; and the fan, Tom; are inviting the biggest and best names in show business and sport to join them, and a lively audience, for an evening packed full of laughter, topical football talk, celebrity chat, and thoroughly entertaining VTs - as well as Harry's unique anecdotes."
Jamie Redknapp says: "When the opportunity came along to work with two of my favourite people I couldn't refuse. Big T is one of my favourite comedians and of course my Dad knows how to crack a joke too. I'm looking forward to getting started and letting you all have a laugh along with us."
Harry Redknapp comments: "When Jamie asked me to join him on his new chat show, I jumped at the chance. I've been watching my son's work in A League Of Their Own and as a pundit on Sky Sports for a long time and wanted to work with him, along with Tom Davis."
Tom Davis adds: "Who wouldn't want to be involved in a show featuring two football legends? Until that day comes I'm chuffed to be working with Harry and Jamie on their Weekend Warm Up. The boys are always a laugh and it's going to be a lot of fun."
A non-broadcast pilot of the show was shot in October. The six hour-long episodes of Redknapps' Weekend Warm Up will be filmed and broadcast on Sky One later in 2020.
This news was announced at a showcase in London, which also revealed a number of other new Sky comedies. The TV network is set to release 80 original comedy and drama titles across 2020, an increase of 25% from last year.
---
For updates, click the button below.
Share this page