The Ranganation Series 2
BBC Two orders Series 2 of The Ranganation
Topical comedy show The Ranganation is to return for a second series
Host Romesh Ranganathan says: "It is great that we are going to be doing it all over again"
The six-part Series 2 will start on BBC Two in May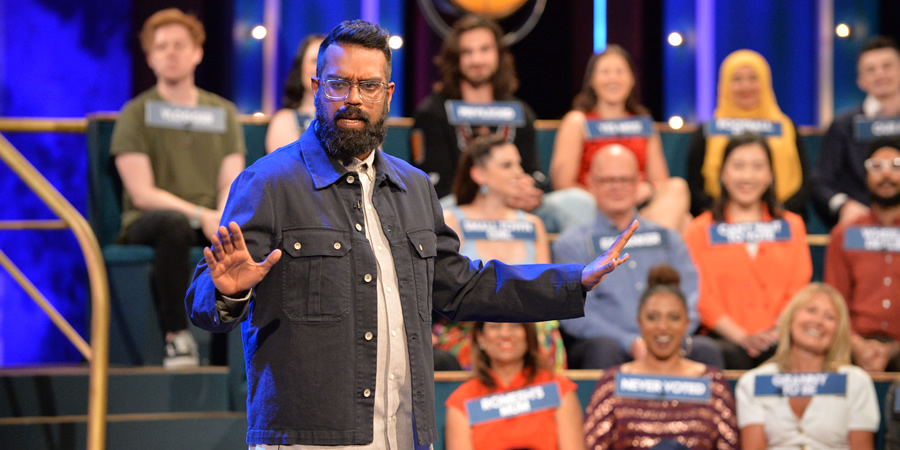 Romesh Ranganathan's BBC Two topical comedy format The Ranganation has been given a second series.
The show, which sees the comedian discussing the news with a panel made up of members of the public, will return on Sunday nights in May.
The BBC says: "Romesh will once again be joined by his hand-picked focus group, The Ranganation - 25 loveable, outspoken characters who represent a cross section of modern Britain, and who will give Romesh their take on a number of topical areas, sharing their own experiences along the way. Celebrity guests will also be on hand to use the Ranganation as a sounding board and to give their own take on the subjects covered.
"Past discussions with members of the Ranganation such as 'Privileged', 'Small Town Girl', 'Has Never Voted' and 'Romesh's Mum', have covered such disparate areas as smart phone addiction, whether alien life exists, whether or not you should wash your legs in the shower and artificial intelligence."
Romesh Ranganathan says: "I thought The Ranganation were brilliant last series and I really enjoyed looking at the world with them, so it is great that we are going to be doing it all over again. It also means that there is definitely a six week block where my mum is not having a go at me for not seeing her enough."
His mum, Shanti Ranganathan, adds: "I am very excited to be doing the show again with Rommy. I love doing it, and I hope this time round he will work harder on his monologues as that was the weak part last time."
Series 1 of the show, which was broadcast in May 2019, averaged 1.2m viewers an episode. It became the biggest new BBC Two entertainment series for under 45s and 16-34s since Robot Wars in 2016.
---
For updates, click the button below.
Share this page