Big Zuu's Big Eats
Dave commissions new food show with Big Zuu and stand-ups
The DJ and grime artist will cook for stand-up comedians touring the UK, in the new 10-part series
Big Zuu's Big Eats is due to air early in 2020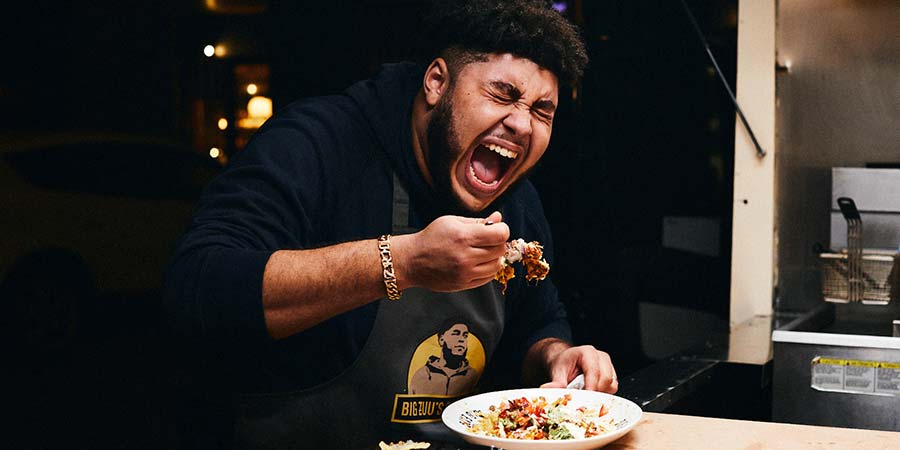 Stand-ups will play a central role in a new food show coming to Dave in 2020.
London-based DJ and grime artist Big Zuu will host the series, cooking for a different touring stand-up in each episode.
Ten episodes of Big Zuu's Big Eats have been filmed for broadcast early next year, with comics including Desiree Burch and Rosie Jones.
Zuu - real name Zuhair Hassan - will get stuck in and help prepare "mouth-watering, made-to-order dishes" for each comic.
He says: "Having my own TV series has been a dream come true. I've grown up obsessed with watching cooking programmes and making homemade food, so to now be able to do that on TV is a surreal feeling. I'm a massive fan of the channel Dave and I can't wait!"
Commissioner Natalie Rose says: "Big Zuu is just the kind of extraordinary raw talent we've been looking for. Bags of charisma, effortless charm, infectious humour and true authenticity. As a touring artist, he acutely understands life on the road, and the instant gratification delicious food brings. All of which make his partnership with some of the UK's finest comics that more exciting."
Sam Grace, Director of Programmes for production company Boomerang, adds: "Zuu is naturally funny and spontaneous and we know his favourite comedians will love him as much as we do! His cooking style and relaxed trademark narration will be perfect for Dave viewers - who might just pick up a few cooking tips too."
Channel boss Luke Hales concludes: "We are committed to experimenting with fresh formats at Dave and this really ticks the box. We have found a real talent in Big Zuu - he has bags of charm and humour and makes some of the most mouth-watering food I have ever seen on telly - this, coupled with some of the biggest and brightest names in comedy, makes for a really exciting show. I am so glad Natalie brought this one to us and so impressed with all the work she has done to get this one off the ground."
The channel's last food-based show, Eat Your Heart Out With Nick Helm, ran for sixteen episodes in 2017. Mixing sitcom and reality elements, it followed the comic around the UK and Europe on a food adventure, supposedly after being dumped by his long-term girlfriend.
---
For updates, click the button below.
Share this page