Scot Squad election interviews
Election interviews for Scot Squad
Scot Squad's police commissioner will interview Scottish political leaders
First Minister Nicola Sturgeon is amongst those due to face a grilling
Jack Doherty has filmed the interviews in character as Chief Commissioner Cameron Miekelson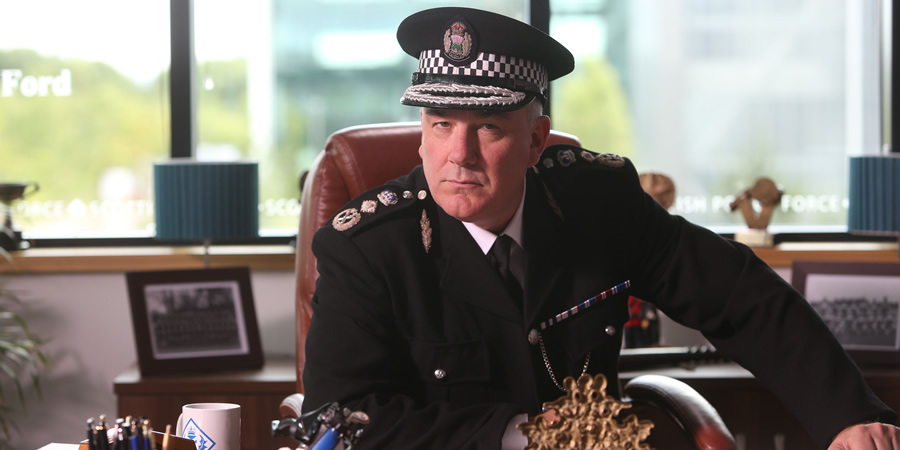 Scot Squad has filmed an election special, interviewing Scotland's real political leaders.
Set to air on Wednesday 4th December, Scot Squad: The Chief's Election Interviews will see Jack Doherty in character as the Scottish police force's Chief Commissioner Cameron Miekelson, engaging in discussion with politicians including current First Minister Nicola Sturgeon.
Alongside the SNP's leader Sturgeon, he will grill Jackson Carlaw, acting leader of the Scottish Conservatives; Richard Leonard, leader of Scottish Labour; and Willie Rennie, leader of the Scottish Liberal Democrats.
BBC Scotland teases: "Miekelson's status as 'Scotland's Fairest Man' makes him the ideal candidate to get the answers the public is looking for. The forensic interviews will cover a range of topics including the politicians' manifestos and developments on the campaign trail."
They add: "He's also planning to share leadership notes with them and may even chip in with a few campaigning tips of his own. In his typically modest opinion, he's one of the most inspirational leaders in the country and has no doubt his worldly wisdom will be appreciated by his guests. Adopting the role of a 'Policey Paxman', he's also convinced his skills as a heavyweight political journalist will be lapped up by the viewers"
Miekelson says: "I, Chief Commissioner Cameron Miekelson, the unbiased, politically neutral and completely above board leader of the Scottish Police force, am very excited to be making this election special for BBC Scotland. Who knows, maybe being around the most successful public figure in modern history will rub off on the politicians in positiveways ...? When it comes to the General Election, forget the polls and listen to the polis."
The half hour programme will be broadcast on BBC Scotland at 10pm on Wednesday 4th December, ahead of the General Election, being held on Thursday 12th December.
Scot Squad, a part-improvised spoof documentary sitcom, was created by Joe Hullait and first aired in 2012. Its hit fifth series aired earlier in 2019 on the BBC Scotland channel.
In the following clip from Series 3, Miekelson investigates the online world.
---
For updates, click the button below.
Share this page