Stand-up for mental health
Dave to launch CALM stand-up showcase
Dave is supporting mental health charity CALM with a new series
Three episodes of stand-up showcase Comedy Against Living Miserably will be shown
A headliner and three comics will feature in each episode, to be broadcast in 2020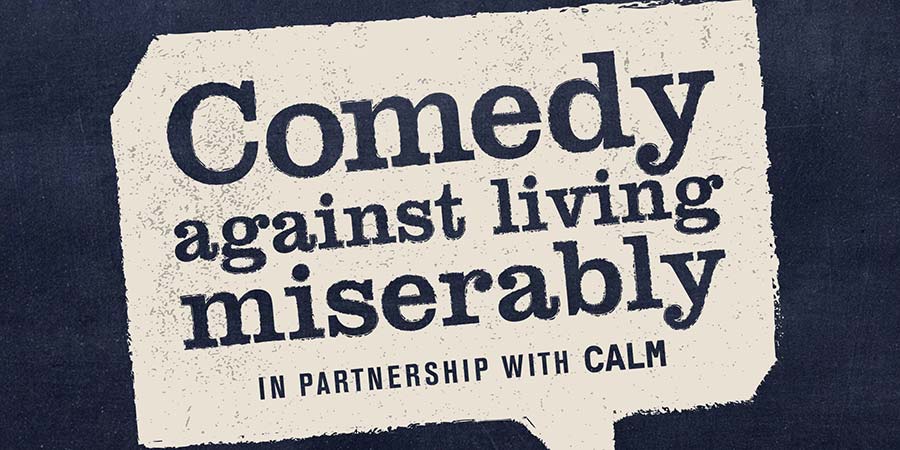 Dave has announced a new stand-up showcase series.
Three episodes of Comedy Against Living Miserably will be recorded for broadcast in 2020, in aid of mental health charity CALM - Campaign Against Living Miserably.
It is the channel's latest endeavour with the charity, after a run of promotional spots on television and a podcast series.
Each of the three hour-long programmes will be hosted by a headline act introducing with three guest comedians. The first is to be recorded on Thursday 21st November at EartH Theatre in Hackney, and will be headlined by Nish Kumar.
Tickets are for sale from See Tickets, with all proceeds going to CALM. All comedians involved are donating their time for free, with Dave also paying their fees to the charity.
Before taking to the stage, the comics will each discuss their own mental health stories and what it feels like to feel sad when your career is built around making other people laugh.
Commissioner Joe McVey says: "While Comedy Against Living Miserably in aid of Campaign Against Living Miserably is a great joke, you can expect a higher calibre of comedy from the actual comedians. That's why they earn the mega bucks (which they're donating to CALM - what lovely people)."
Dave boss Luke Hales said: "The whole Dave team are really proud of the work we do with CALM, we are so glad we have managed to make these three stand-up specials happen as they promise to be brilliantly funny and are for such an important cause. The aim of these shows is to help raise awareness and lots of money for CALM to help them as they continue their incredibly important work saving lives."
Production company Spirit Media's Matt Campion added: "Comedy Against Living Miserably is such an amazing follow up for Spirit to the event we produced last year, Music 4 Mental Health, which saw the biggest names in the music industry come together to help combat the stigma surrounding mental health. Not only does this series promise to deliver on the funny, but we hope along with CALM, Dave and some of the UK's biggest comedians, we can build a new TV-led awareness raising platform that uses comedy and the gift of laughter to make a meaningful difference to those of us who are struggling with mental health."
Simon Gunning, CEO of the Campaign Against Living Miserably (CALM), said: "We're delighted to continue our partnership with Dave and UKTV for Comedy Against Living Miserably. We've seen how comedy can be an effective vehicle for conversations around mental health, suicide, and generally being there for your mates when things get tough. This series of events, in collaboration with our friends at Spirit Media and the brilliant comics who are on board, will promise bags of fun with an important message underneath."
Three 60-minute episodes will air in 2020.
---
For updates, click the button below.
Share this page