Red Dwarf special
Red Dwarf to return for two hour special
Channel Dave will also air a new three-part documentary series telling the history of the hit sitcom
Writer Doug Naylor says: "Smoke me a kipper, we're back and not just for breakfast"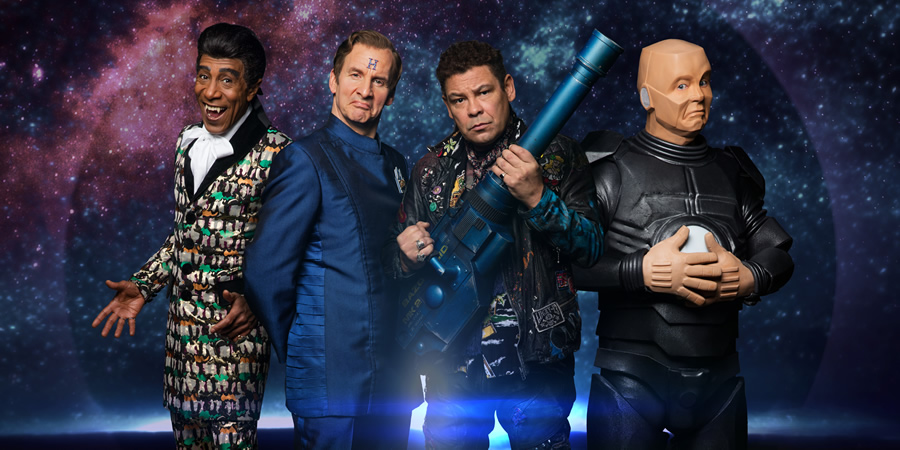 It has been announced this morning that hit sitcom Red Dwarf is returning to [z]Dave] in 2020 for a two hour special.
The channel will also air a new three-part documentary series about the hit sitcom.
The channel confirms: "Craig Charles, Chris Barrie, Danny John-Jules and Robert Llewellyn are back as Lister, Rimmer, The Cat and Kryten, in an all-new story written and directed by series co-creator Doug Naylor."
The 120 minute story will be the sitcom's first feature-length episode.
Doug Naylor says: "I'm absolutely thrilled to have the opportunity of making more Red Dwarf. UKTV has been a never-ending source of support and encouragement since we first started working together ten years ago. Can't wait to start shooting a format that I don't think has ever been done before. Smoke me a kipper, we're back and not just for breakfast."
Craig Charles comments: "I'm really excited to get back on board with the boys from the Dwarf. I can't wait to discuss Robert's prostate problems, Chris Barrie's hip replacement and have a proper look at Danny's new dentures whilst they marvel at the agelessness of the Charles physique. I will surely require the services of a chiropractor after dragging these doddering misfits through what promises to be our most epic adventure yet."
To celebrate the return of "the small rouge one", Dave has also commissioned a three-part documentary series to offer fans "the definitive story of the show from day one - over thirty years ago - right up to the present day". The Red Dwarf retrospectives will include rare and unbroadcast material, as well as new interviews with cast and crew.
Commissioner Pete Thornton says: "Our relationship with Red Dwarf has been incredibly fruitful and satisfying so far and it's been a real pleasure to see the cast and crew fully committed and seemingly enjoying themselves more than ever in the run up to this latest production. We've been talking to Doug and the team about how to take Red Dwarf forward and the special clearly offers us an exciting next step. It's going to be a proper event in the history of the series - and with the show having now passed its thirtieth birthday, what better time to take a proper look back at its history via our retrospectives with [production company] North One."
Luke Hales, Dave channel director, adds: "I am a huge, life-long fan of Red Dwarf and I still re-watch it and re-read the books regularly to this day. So it goes without saying that it gives me huge pleasure to be a part of the team this time around. I am as excited about this one as a viewer as I am in my role as channel director on Dave. The episodes we've made for the channel so far have been brilliant, and what a way to welcome it back too, with a feature-length special and three-part look back at the show's history. We at the Dave team literally cannot wait to bring this huge treat to our viewers."
Dave took over making Red Dwarf in 2009, with the Red Dwarf: Back To Earth specials (also known as Series 9) watched by over two million viewers. The most recent series - Red Dwarf XII (Series 12) - was shown in 2017, with the channel noting it "garnered some of the finest critical notices the show has ever received."
The new special will be filmed on location, and at Pinewood in front of a live studio audience on Fridays 6th and 13th December. A ballot for free audience tickets is running until 21st October.
The new Red Dwarf will air on Dave in 2020.
---
For updates, click the button below.
Share this page