Ricky And Ralf's Road Trip
Ricky Tomlinson and Ralf Little to star in Gold travel series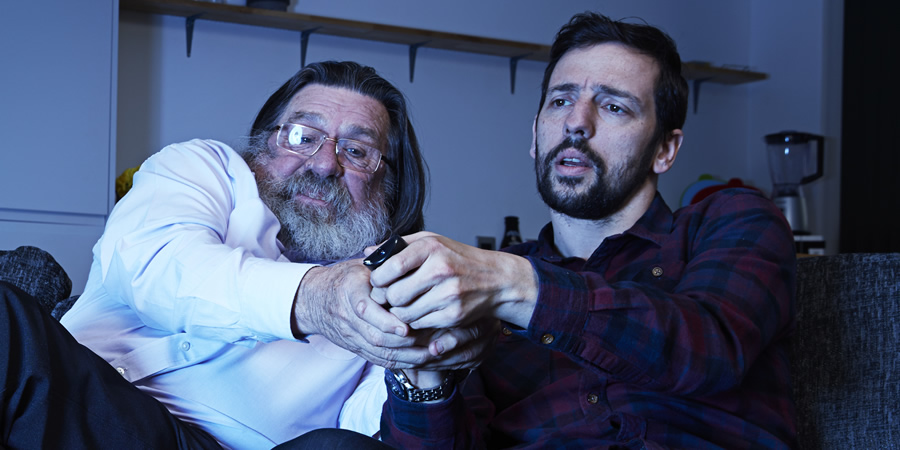 Royle Family stars Ricky Tomlinson and Ralf Little are to star in new Gold travel series.
Ricky And Ralf's Very Northern Road Trip will see the duo head out together in a camper van across the north of England, "where they'll share memories, entertain each other, and along the way discover just what sets the north apart from the rest of the UK".
Six hour-long episodes are being made.
Tomlinson, who played Jim in The Royle Family, and Ralf, who played Antony, previously teamed up in 2016 for Gold's Gogglebox-style show We Have Been Watching (pictured).
Talking about their new series, Ricky Tomlinson says: "People are always going on about exotic holidays here, luxury cruises there, finding your inner-self wherever. Now, don't get me wrong, I love a bit of sun on the Med as much as the next man - but for my money, there's everything you could ever want on your doorstep here in the north of England - and no better way to see it than in your own home on wheels."
Ralf Little adds: "I've been lucky enough to do a fair bit of travelling around various bits of the world - but this promises to be a holiday like no other. Weeks on the road, in a camper van with my 80-year-old TV dad. In the middle of autumn. What could possibly go wrong? Seriously, bring it on. Who knows, I may even be able to teach him a thing or two about the north."
Commissioner Joe McVey says: "I'm thrilled Ricky & Ralf have agreed to tour the north in a camper van for us. It's been in the office since someone won it on Bullseye in 1986 and we've been trying to find a use for it. Not only is this going to be a warm, frank and very funny look at an incredible part of the country we've also freed up a bit of desk space. It's a real win-win for us."
Gerald Casey, Gold channel director, comments: "These are two comic icons and it's clear how much they enjoy each other's company - even in a camper van! We know that Gold viewers will really appreciate seeing their offscreen relationship and experiences as they travel the north together."
John Quinn from production company North One says of their stars: "They're the perfect odd couple, really. Ricky's a Scouser who's just turned 80, Ralf's from just outside Manchester and about to hit 40. So they're united as proud northerners, yet still separated by half a lifetime and 30-odd miles of M62 - which might as well be 'half the world away' - it should all make for a unique insight into life, history and humour in vastly contrasting areas of northern England."
Ricky And Ralf's Very Northern Road Trip will air on Gold in 2020.
---
For updates, click the buttons below.
Share this page