Year Of The Rabbit Series 2
Year Of The Rabbit writers plan Series 2
The writers of Channel 4 comedy Year Of The Rabbit have "sketched out" ideas for a second series
Channel 4[/z] has yet to make a decision on whether the sitcom starring Matt Berry will return
Kevin Cecil and Andy Riley said: "We've done some work and there's a lot of work still to be done"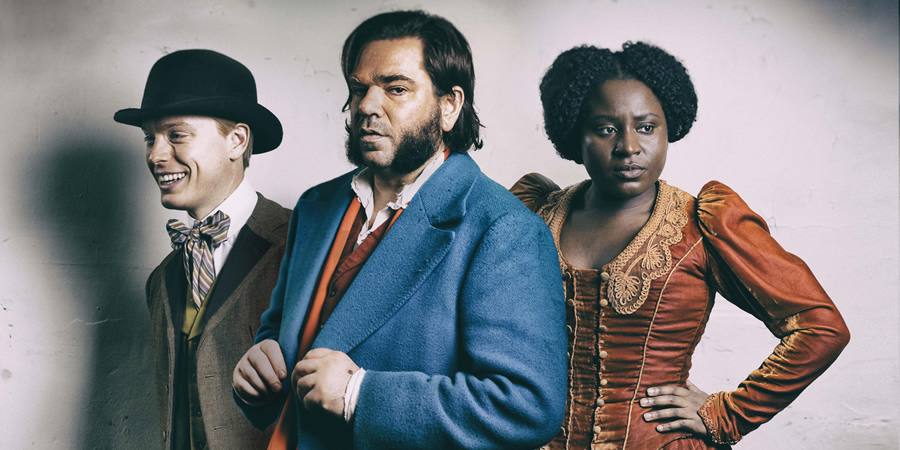 Kevin Cecil and Andy Riley - the writers of new Channel 4 sitcom Year Of The Rabbit - say they have "sketched out" some ideas for Series 2, although another run has yet to be commissioned.
Speaking to Digital Spy, the writers confirmed they were thinking about what would happen next in the story.
However, Riley added: "It's a lot of work, so it's not like we've got all the stories [planned out] until we get the nod," adding "When we get the nod, we will be working those out in earnest."
Series 1 of the Victorian police-set sitcom - which stars Matt Berry, Freddie Fox, Susan Wokoma, Alun Armstrong and Paul Kaye - finished on Channel 4 last night (Monday 15th July) with the final scene setting up a potential second series.
Talking about their next steps, Kevin Cecil told Digital Spy: "We've got to sit down with Matt, and get Matt's take, and get his ideas. We've done some work and there's a lot of work still to be done."
British Comedy Guide approached Channel 4 to find out the commissioning status of the show. The network says nothing has yet been decided. It is common for channels to wait for viewing figures and audience feedback to be consolidated before deciding whether to order another run of a programme.
The final scene of Episode 6 guest starred Flight Of The Conchords actor Jemaine Clement. Asked whether his character would return in if there was another series, Cecil said: "That would depend on Jemaine's availability - he's a very busy man! I'm a massive fan of his and I would write for him until the cows come home, but we haven't signed a contract with Jemaine yet."
The writers also left it open for whether Keeley Hawes' character Lydia might return. "We don't yet know how much and in what capacity, because we haven't written it yet. But it's nice to have [that option]. We do kill off quite a lot of people, and we don't want everyone dead!"
Talking further about how Year Of The Rabbit has a storyline running through it, they said: "In the old days, you never had to do this in sitcoms. When we were writing Black Books in the early 2000s, what you'd do back then - which was the norm for sitcoms at that point - was you'd do your six episodes, each of them was completely standalone, and then you'd choose the order once they were filmed. Now, people want more than that."
Talking generally about the premise of the show, the duo commented: "It's quite hard to write a comedy, and it's quite hard to write a compelling police drama - when you do both, it's a nightmare!"
New on the future of Year Of The Rabbit will be revealed in due course.
Speaking ahead of the launch of Rabbit, Matt Berry said he is planning a fourth series of his sitcom Toast Of London, but he doesn't yet know when he'll have time to write it.
Series 1 of Year Of The Rabbit is released on DVD on 22nd July. Win a copy of the DVD
---
For updates, click the button below.
This Channel 4 sitcom set in the dark heart of Victorian London follows Detective Inspector Rabbit (BAFTA winner Matt Berry), a hardened booze-hound who's seen it all, and his hapless new partner Strauss (Freddie Fox).
They are joined by Mabel (Susan Wokoma), the ambitious daughter of police chief Wisbech (Alun Armstrong) and together they fight crime - while rubbing shoulders with street gangs, crooked politicians and Bulgarian royalty. Also starring Keeley Hawes as the mysterious Lydia and Sally Phillips as Princess Violetta of Bulgaria while Jill Halfpenny is Rabbit's ex, the deadly Flora.
First released: Monday 22nd July 2019
Distributor: Acorn Media
Region: 2
Discs: 1
Minutes: 180
Subtitles: English
Catalogue: AV3548
Buy and sell old and new items
Search for this product on eBay
It looks like you're in the US? Fear not! Almost everything can still be ordered.
Amazon UK
deliver internationally,
Amazon.com
carries many items separately, or you can look out for US/Canadian flags on our product listings for direct links.
If ordering from a UK store, please note that you are in Region 1 (DVD)/Region A (Blu-ray), whilst the UK is in Region 2/B, respectively. This means that many - but by no means all - may fail to play. Look for products marked "Region free", "All regions", "Region 0" or "Multi-region". Blu-rays may also be marked "Region A/B/C", or variations thereof. You may also check whether your DVD/Blu-ray player supports multi-region playback (also referred to as "region free"), or whether it can be set to do so. There should, of course, be no problems with books, CDs, or other physical items.
More advice & help on importing
Share this page