I'll Get This Series 2
Dinner party show I'll Get This to return
BBC Two comedy format I'll Get This is to return for a second series
The "refreshing new take on the panel show" sees guests playing games over dinner. The loser pays the bill
Series 2 will start with a Christmas special in December, with the other episodes then following in 2020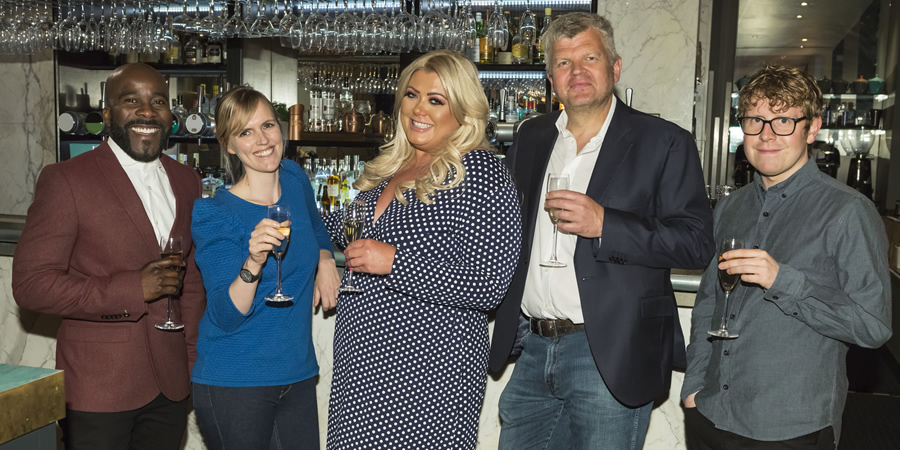 I'll Get This, the comedy format in which celebrities play games over dinner with the loser paying the bill, is to return to BBC Two for a second series.
The BBC confirms: "The game of dinner party jeopardy is set to return with a new group of daring diners.
"As before, five famous faces meet at a restaurant and reluctantly surrender their credit cards. They play a series of funny and revealing games with the loser of the games having to pick up the bill for everyone, making it an expensive night for one of the celebrities."
Series 1 of the show was broadcast in November and December, with BBC Two having just broadcast a repeat run featured extended-length versions of the episodes.
Those involved in Series 1 included Melvin Odoom, Holly Walsh, Gemma Collins, Adrian Chiles and Josh Widdicombe (pictured). Producers 12 Yard Productions say: "This new series sees another group of household names take on the challenge, and run the risk of footing the bill for their fellow diners."
Kate Phillips, Controller Entertainment Commissioning at the BBC, has ordered six more episodes, one of which will be a Christmas special. She says: "I'll Get This is a refreshing new take on the panel show format and I'm looking forward to even more helpings of our dinner party with a twist."
Paul McGettigan, Head of Comedy Entertainment at 12 Yard Productions, comments: "We are delighted to be bringing our unique dining format back to BBC Two. Celebrities better start saving because yes, they really do pay the bill!"
Series 2 of I'll Get This will start with the Christmas special in December, with the other five episodes expected to be broadcast in early 2020.
---
For updates, click the button below.
Share this page