Full series of In My Skin
In My Skin series confirmed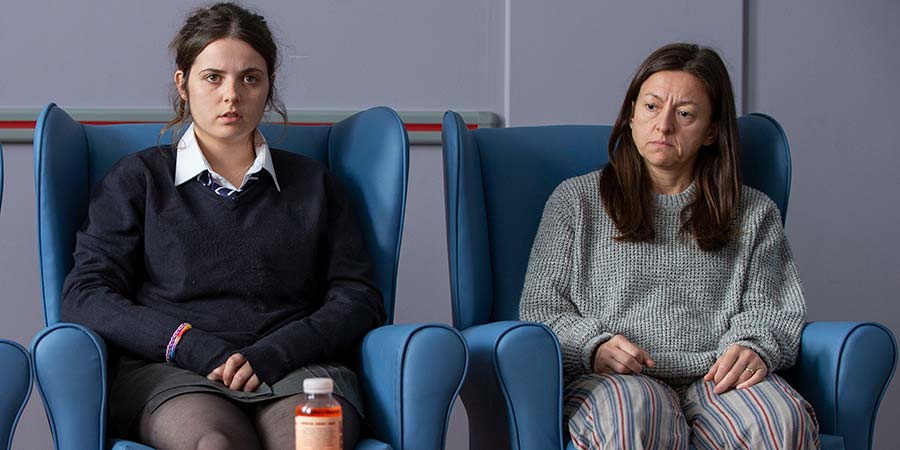 BBC Three and BBC Wales have ordered four episodes of comedy drama In My Skin, British Comedy Guide can exclusively confirm.
We first reported the commission in December, but executives have now confirmed the news.
Piloted late last year, the comedy follows a Cardiff teenager, Bethan, who is struggling to keep up the pretence of normality at school whilst at home has just had to have her mother sectioned in a mental health facility.
A Comedy Slice pilot, the programme is created and written by Kayleigh Llewellyn, based on her own experiences.
Gabrielle Creevy stars as Bethan, with Jo Hartley playing her mother, Katrina. The programme is made for the BBC by production company Expectation.
BBC Wales explains: "Picking up from where the 2018 pilot left off, we follow Bethan as she desperately tries to keep the truth of her home life a secret from her friends. But when your mother is sectioned in a mental facility near your school and has a penchant for breaking out, and your father is a Hell's Angel who drives a rag and bone truck - flying under the radar ain't so easy.
"Nevertheless, Bethan is determined to save her own blushes. But her cheek and wit can only carry her so far as she digs herself deeper and deeper in to a hole of her own lies. Along the way there are lesbian infatuations, tough love from her nana, and non-stop interferences from her bulldozer teacher who is always on her case.
"It's funny, raw and heartbreaking at times as we vicariously relive our adolescence through Bethan; the confusing, intoxicating, painful mess of it all."
Nick Andrews, Head of Commissioning for BBC Wales, says: "The reaction to In My Skin has been stunning. Gabrielle Creevy's performance as Bethan, a funny, sassy, melancholy teen enduring a unique coming-of-age experience, is profoundly moving. Kayleigh, who wrote the piece based on her own experiences growing up in Cardiff, has to be one of the sharpest observers of family life in Britain today. It's the best news that this pilot will soon be a series."
Nerys Evans, Creative Director for Comedy at Expectation, says: "I'm so excited to be making more of In My Skin for the BBC. We've been so lucky to gather such a talented cast together, bringing Kayleigh's fantastic writing to life. I can't wait to see what Kayleigh has in store for us over the series."
Kayleigh Llewellyn says: "I'm thrilled to be working with the BBC and our exceptional cast and creative team from the pilot to continue telling Bethan's story. It's one close to my own heart, and I hope in some way we can help to chip away at the shame that so often surrounds mental illness."
Shane Allen, Controller of BBC Comedy Commissioning, added: "In My Skin heralds a bright new comedic voice in Kayleigh who paints an unvarnished, complex and truthful coming-of-age story full of heart and humour. The ambition of the writing has been matched through the alchemy of casting, setting and production to offer the BBC Three audience up something wholly original and truly sublime."
The four part series will begin filming later this year. Broadcast details have yet to be confirmed.
---
For updates, click the button below.
Share this page