Sky orders new MI5 spy sitcom
Sky orders new MI5 spy sitcom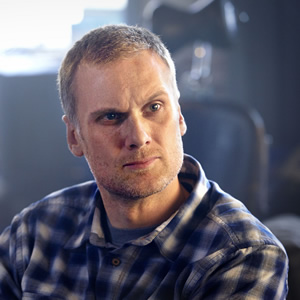 Sky One have announced SPY, a new sitcom about a man accidentally recruited as a trainee spy for MI5.
The comedy will star Saxondale, Dirk Gently and Green Wing actor Darren Boyd (pictured) as a single father called Tim who is trying to win back the respect and affections of his horribly precocious nine year old son. In the hope of proving that he is not a complete loser, Tim quits his dead-end job but his life changes forever when he is accidentally recruited as a trainee spy for MI5. The six-episode series will follow the adventures of Tim as he struggles to juggle family life and his professional life without his secret being discovered.
SPY will also feature Robert Lindsay in his first major TV comedy role since announcing he was quitting long-running BBC sitcom My Family. The veteran comic actor will play 'The Examiner', the irrepressible MI5 boss who teaches the recruits his own unorthodox approach to the espionage game.
Hat Trick Productions, the company making the sitcom for Sky, have built up a strong ensemble team of actors to take on the other main roles in the sitcom. Dolly Wells (Campus, Free Agents) will play Tim's acidic ex-wife Judith; Tom Goodman-Hill (Ideal, Candy Cabs) takes on the role of her enthusiastic new boyfriend Philip; and Mathew Baynton (Gavin & Stacey, Horrible Histories) is his anti-social friend Chris. Plus, Rebekah Staton (Pulling, No Heroics) plays Tim's fellow spy and potential love interest, Caitlin; and Rosie Cavaliero (Bellamy's People, Jam & Jerusalem) will play Paula, a psychopathic obsessive social worker looking to trap Tim into a relationship.
SPY has been created and written by Simeon Goulden, a relatively new writer. His previous credits include sketches for The Armstrong & Miller Show and two episodes of ITV drama Secret Diary of A Call Girl.
Jimmy Mulville, Executive Producer of Hat Trick, says: "The writing, the characters and the situations in SPY mark it out as one of the funniest and strangest takes on the Family Comedy. Dysfunctional doesn't begin to do it justice!"
The series was commissioned by Lucy Lumsden, Head of Comedy for Sky. This is the latest in a raft of new comedies ordered by Sky, as the broadcaster looks to invest in British comedy to create some new home-grown hits. Other new comedy programming in the pipeline for Sky includes Mount Pleasant, a new comedy drama set in Manchester; Trollied, a sitcom set in a supermarket; and a full-series of the surreal This Is Jinsy.
Lumsden says: "In SPY we have an exciting young cast and a brilliant new writer in Simeon Goulden. It is the first of several new British comedies aimed at a family audience to sit alongside our fantastic US line-up including Modern Family, The Middle and The Simpsons."
SPY is going into production now and will transmit this Autumn on Sky 1 HD.
Share this page