Clunes BBC sitcom Warren ends
BBC decommissions Martin Clunes's Warren
The comedy starred Martin Clunes as an irascible driving instructor
Six episodes were broadcast between February and April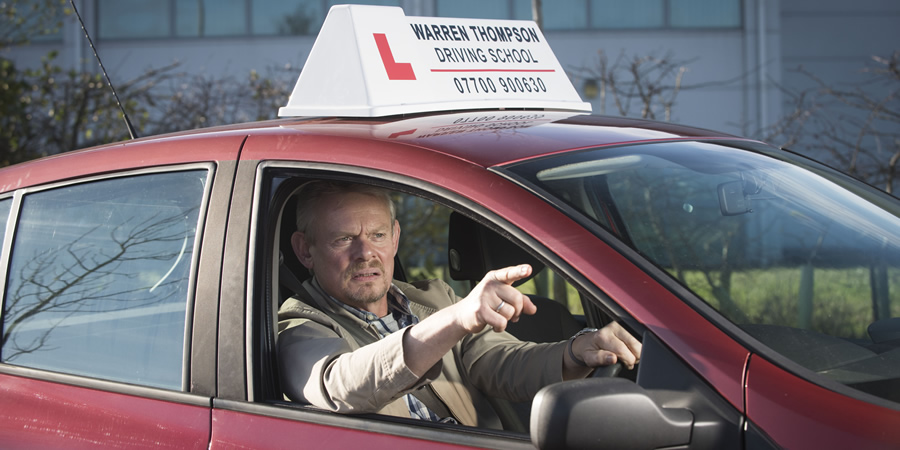 The BBC has declined to commission a second series of new sitcom Warren.
Starring Martin Clunes, the six-part comedy about a grumpy driving instructor aired from February to April this year, and is released on DVD today.
Co-writer Jimmy Donny Cosgrove posted on Twitter yesterday: "Today I bought the DVD of my very own TV series #Warren. Sadly, the BBC never bought the second series of my very own TV series #Warren but thems [sic] the breaks."
He added: "Thanks to everyone who watched, supported, and encouraged. Hopefully this isn't the end, but just the beginning."
Overnight ratings saw the Hat Trick-produced comedy launch with 3.8 million viewers, declining from 2.39 to 1.84 million across the successive five episodes. Such figures are relatively strong for a modern comedy, but poor for the sitcom's home channel, BBC One.
Warren was paired with This Time With Alan Partridge in a 9pm comedy hour on Mondays from 25th February. The latter series had lower viewership than Warren but attracted critical acclaim, and a successor series is already in development.
Lisa Millett led single camera comedy Warren's supporting cast as the titular character's partner, Anne; with Tim Preston and Oscar Morgan playing her teenage sons.
The BBC said in a statement today: "Whilst there are no plans for a further series of Warren, we'd like to thank the creators and writers Jimmy Donny Cosgrove and Paul McKenna, plus the entire cast and everyone at Hat Trick for all their hard work and dedication to the show."
Clunes is currently filming a ninth series of ITV comedy drama Doc Martin.
---
For updates, click the button below.
Martin Clunes returns to our screens as another man behaving badly: Warren, a hilariously pedantic driving instructor who thinks the world is against him.
Created and written by writing team Jimmy Donny Cosgrove and Paul McKenna, this original six-part comedy centres around Warren Thompson, who suddenly finds himself in his mid-50s, forced to up sticks from the south to Preston when his partner Anne's (Lisa Millett) father falls ill. Not blessed with patience, empathy, or any kind of paternal instinct whatsoever, cantankerous, blunt and grumpy, he just about tolerates his students, not to mention the two teenage stepsons he never wanted.
To put it delicately, Warren's naturally difficult personality means he's constantly finding himself in sticky situations. Set in his ways, he's happy with a clean house, a neat garden, and a nice cup of tea...but always seems to end up on the verge of absolutely losing it. From neighbourly disputes to vendettas in both his personal and professional life, this uniquely British, crabby comedy hero will have you clutching your sides and clutching your pearls in equal measure.
First released: Monday 20th May 2019
Distributor: Acorn Media
Region: 2
Discs: 1
Minutes: 180
Subtitles: English
Catalogue: AV3540
Buy and sell old and new items
Search for this product on eBay
It looks like you're in the US? Fear not! Almost everything can still be ordered.
Amazon UK
deliver internationally,
Amazon.com
carries many items separately, or you can look out for US/Canadian flags on our product listings for direct links.
If ordering from a UK store, please note that you are in Region 1 (DVD)/Region A (Blu-ray), whilst the UK is in Region 2/B, respectively. This means that many - but by no means all - may fail to play. Look for products marked "Region free", "All regions", "Region 0" or "Multi-region". Blu-rays may also be marked "Region A/B/C", or variations thereof. You may also check whether your DVD/Blu-ray player supports multi-region playback (also referred to as "region free"), or whether it can be set to do so. There should, of course, be no problems with books, CDs, or other physical items.
More advice & help on importing
Share this page