The Dame Edna Show
Dame Edna to host BBC special
Dame Edna Everage will host a one-off entertainment show special on BBC One
Set on her yacht, The Dame Edna Show will feature "celebrity chat, music and of course a few surprises"
The special will be recorded in front of an audience soon, for broadcast on BBC One later in the year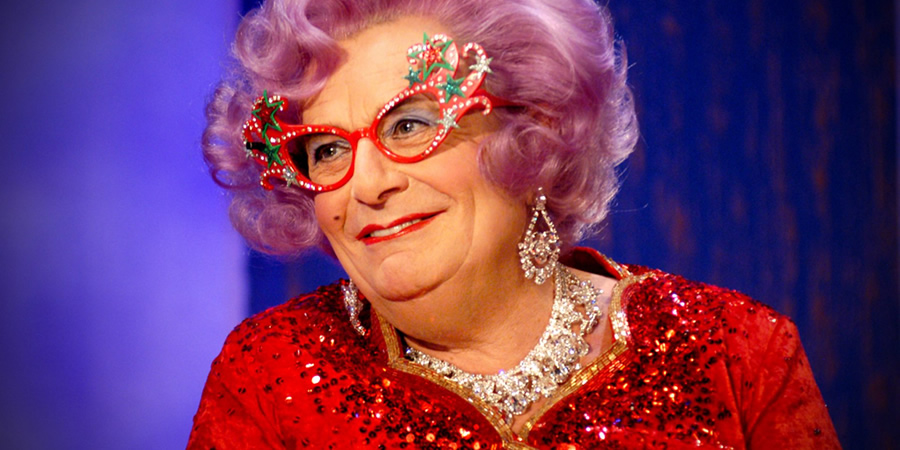 BBC One has ordered an entertainment special hosted by Dame Edna Everage.
The BBC says: "Following her emotional farewell tour, Dame Edna has been enjoying luxury downtime on board her enormous yacht, sailing the seas without a care in the world. But now she's back for one very special night and she's bringing her legendary entertainment show to BBC One.
"Filmed in front of an audience, Dame Edna will host a very exclusive evening with celebrity chat, music and of course a few surprises direct from her luxury yacht, staffed by some familiar faces."
Barry Humphries will reprise his internationally successful comic creation for The Dame Edna Show, a one-off special for BBC One to air later this year and executive produced for Studio 1 by Claudia Rosencrantz, the long-time Dame Edna producer.
Dame Edna says: "The world needs sunshine so I am very happy to welcome you all on board. One hour on my yacht is better than a lifetime on a cruise liner."
Kate Philips, Controller of Entertainment Commissioning, says: "There's nothing like a Dame Edna and I can't wait for this unforgettable one off special to hit our screens. With a whole host of celebrities bravely stepping on board to join the First Lady of Oz we're all in for an absolute treat."
Rachel Ashdown, BBC Commissioning Editor, adds: "Over the past 50 years Dame Edna has got to grips with the world's biggest stars and I am looking forward to seeing her welcome the current generation of celebrities to her sofa."
Australian comic and satirist Barry Humphries has been performing as the outlandish character since 1955. He introduced the Melbourne housewife and showbiz star to Britain in the early 1960s with appearances at Peter Cook's The Establishment club. Her first TV specials for the BBC were in the 1970s, and she has appeared on both the BBC and ITV over the last 40 years. Recently, Humphries toured as the character, hosted the TV programme A Granny's Guide To The Modern World, and made a cameo as Dame Edna in Absolutely Fabulous: The Movie.
Humphries was recently at the centre of controversy over comments in relation to transsexual women, which prompted Melbourne International Comedy Festival to rename The Barry Award, which was titled in his honour. The comedy star has since claimed he has been "grotesquely misinterpreted".
The Dame Edna Show - currently a working title - will be broadcast later this year on BBC One.
---
For updates, click the button below.
Share this page