Derry Girls Series 3
Derry Girls returns for third series on Channel 4
Derry Girls is to return for a new series
Another six episodes are now being written by creator Lisa McGee
All of the cast are expected to return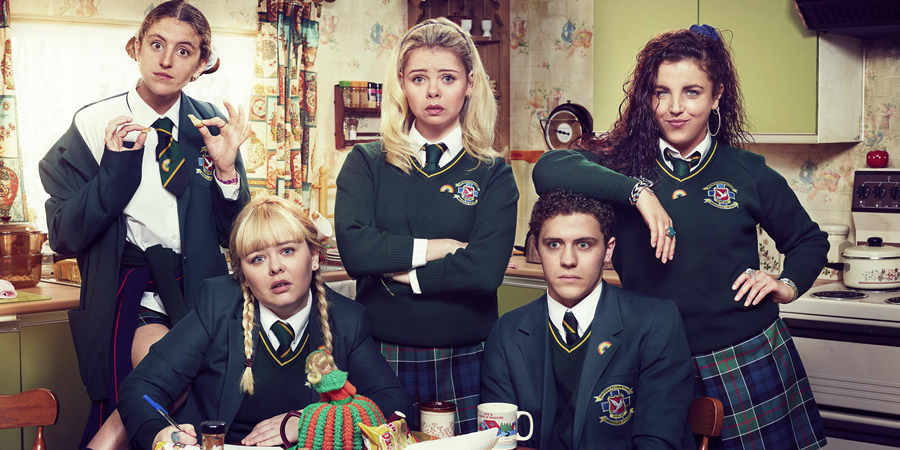 Derry Girls will return for a third series.
Channel 4 has tonight announced that it has ordered another six episodes of the hit sitcom, which focuses on a group of teenagers growing up amidst the Troubles of early 1990s Northern Ireland.
The second series aired its final episode tonight, having opened its run with a consolidated audience of 3.2 million viewers, the broadcaster's biggest British comedy launch in 15 years.
Whilst Series 1 averaged 2.5 million viewers per episode (including catch-up and repeat viewings), the four episodes of Series 2 for which data is currently available have averaged 2.7 million.
Lisa McGee, creator and writer of Derry Girls, says: "I love writing this show and I'm so thrilled to be able to continue the Derry Girls story. Thank you Channel 4, Erin and the eejits live to fight another day!"
Channel 4 say McGee "has mined her own experiences to create a candid, one-of-a-kind, family-centred comedy".
They explain: "While Series 1 saw the gang navigating their teens in 1990s Derry against a backdrop of the Troubles, Series 2 saw them navigating their parents, parties, love interests and school against the backdrop of a precarious peace process. Northern Ireland is growing up - this gang of eejits certainly aren't anytime soon."
The sitcom follows Erin (Saoirse-Monica Jackson), her cousin Orla (Louisa Harland) and friends Clare (Nicola Coughlan), Michelle (Jamie-Lee O'Donnell) and Michelle's tag-along English cousin, aka The Wee English Fella, James (Dylan Llewellyn).
The series also features Tommy Tiernan and Tara Lynne O'Neill as Erin's long-suffering parents; Ian McElhinney as Granda Joe and Kathy Kiera Clarke as Aunt Sarah. Siobhan McSweeney co-stars as Sister Michael, the straight-talking Headmistress of Lady Immaculate College.
Ian Katz, Director of Programmes at Channel 4, says: "At a time of great uncertainty about the future of the country thank God we have one unequivocally good piece of news to look forward to: the Derry Girls will be back to make our lives a bit brighter and more fun."
Fiona McDermott, Head of Comedy at Channel 4, says: "It's no surprise that Derry Girls continues to delight a growing legion of fans - a combination of magical writing and adorable characters make this show both timely and timeless. We're delighted to confirm a third series - don't tell Ma Mary, but I'm breaking open the Christmas cupboard in celebration."
Jimmy Mulville, Managing Director of Hat Trick Productions, says: "We've been brilliantly supported by Channel 4 on the Derry Girls' journey and I'm just thrilled we're still on it and heading for Series 3."
The series is expected to be broadcast early in 2020.
---
For updates, click the button below.
Share this page