Judge Romesh Series 2
Jessica Knappett joins Judge Romesh Series 2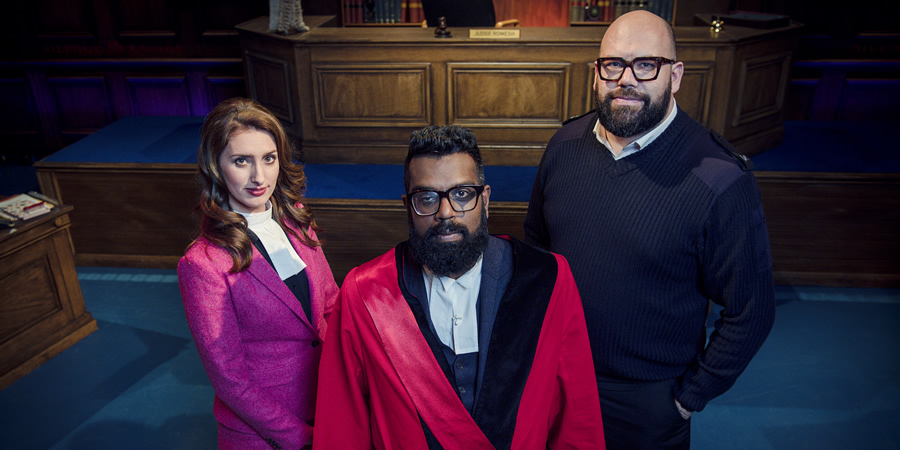 Jessica Knappett has joined Judge Romesh as the comedy show prepares to return to Dave for a second series.
The comic actor, who also recently starred in Taskmaster on Dave, will take over from Kerry Howard as the court clerk in the show.
The channel confirms: "Romesh Ranganathan will once again don his robes and bang the gavel as the inimitable Judge Romesh, which returns to Dave for an extended second series in 2019. From the moment he bounces into the courtroom over a blaring hip hop soundtrack, Judge Romesh is in charge and his decree is final, making barely informed decisions on trivial real-life disputes. Helping the judge run the rule over each case are his trusty bailiff Tom Davis and Jessica Knappett as the court's clerk."
British Comedy Guide revealed in December that a second series of the format was in development. The first 10-part series performed well, reaching 3.7 million viewers according to the channel.
The twelve new episodes were filmed at Pinewood Studios in January.
Kerry Howard has previously explained on social media that she took the decision to leave the show, having felt out of place in her role and wishing to spend more time with her young son at home in Bath, amidst other filming commitments.
Romesh Ranganathan says: "It is great to be able to do a second series of Judge Romesh. Some may think it's because it's an easy job, the money's good and I'm working with mates, but the truth is I'm purely motivated by helping people with the problems that they, for some reason, believe to be important."
Commissioner Joe McVey comments: "I'm thrilled to be back in the court of the nations' leading (unqualified) judge. Mainly because there's always a tub of Celebrations at the back of the gallery."
Luke Hales from UKTV adds: "What a pleasure, to be able to bring back Judge Romesh. His brilliance at being funny is only dwarfed by his ineptitude at all legal matters."
Dan Baldwin, managing director of production company Hungry Bear Media, says: "Hungry Bear are absolutely delighted that Dave have ordered Judge Romesh to return for another (extended) series. Expect more cases, more controversial verdicts, more arguments, more laughs and far less patience from Romesh. If there is something that is certain, it's this: A judge has never been more marginally bothered about finding some sort of justice. Ever."
Series 2 of Judge Romesh will be shown on Dave later this year.
---
For updates, click the button below.
Share this page