Mamma Mia Comic Relief spoof
Jennifer Saunders stars in new Mamma Mia! spoof for Comic Relief
This sketch was broadcast on the 15th March.
Watch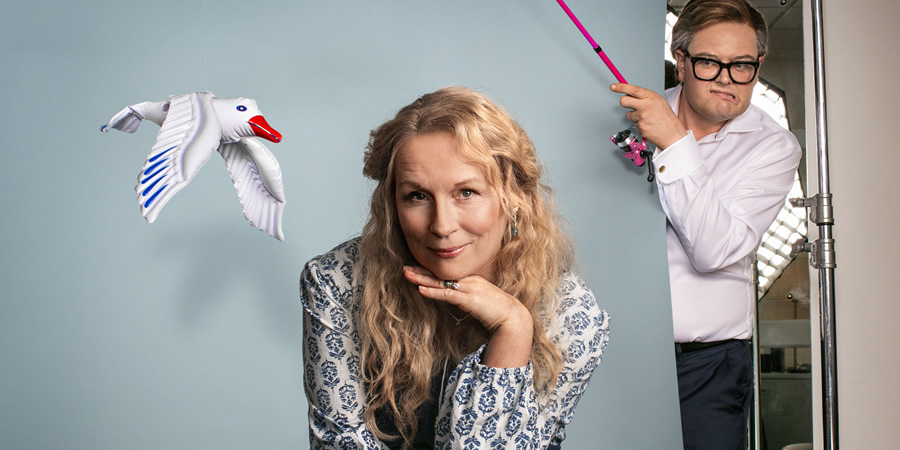 Jennifer Saunders and Richard Curtis have written a new spoof of Mamma Mia! to present as part of Comic Relief.
Mamma Mia! Here We Go Again will premiere on BBC One as part of Red Nose Day 2019, on Friday 15th March.
The new sketch follows on ten years from Saunders' last spoof of the musical.
The new sketch will see Alan Carr, Miranda Hart, Philip Glenister and Sue Perkins return to join Jennifer on screen.
The BBC confirms: "Written by Jennifer Saunders as a tribute to last summer's box office smash hit, Mamma Mia Here We Go Yet Again! will see some of the UK's biggest names in acting and comedy recreating memorable moments from the sequel and even attempting to sing some of Abba's most iconic songs."
The BBC adds: "The sketch will see some familiar faces reprising their roles, with Jennifer Saunders playing Meryl Streep's Donna, Alan Carr playing Colin Firth's Harry and Philip Glenister playing Pierce Brosnan's Sam."
Miranda Hart and Sue Perkins will also be on hand "to ensure it all runs smoothly", playing the film's producer and director. More cast names will be revealed in due course.
See tweet
Jennifer Saunders says: "If I could have lived on the fake Mamma Mia set for the last year, I would have been very happy. So I am very, very, very happy to be back. This is undoubtedly one of the silliest things I've done. But my god I enjoy it so much."
Mamma Mia Here We Go Yet Again! will be screened on BBC One on Friday 15th March as part of Red Nose Day.
Comic Relief will also feature a sketch starring Bodyguard actor Richard Madden and the Four Weddings And A Funeral cast reuniting for a short sequel. Further highlights are due to be revealed in due course.
Here is the original Comic Relief spoof of Mamma Mia!, first shown in 2009:
---
For updates, click the button below.
Share this page