Inside No. 9 Series 5 cast
Inside No. 9 Series 5 guest stars revealed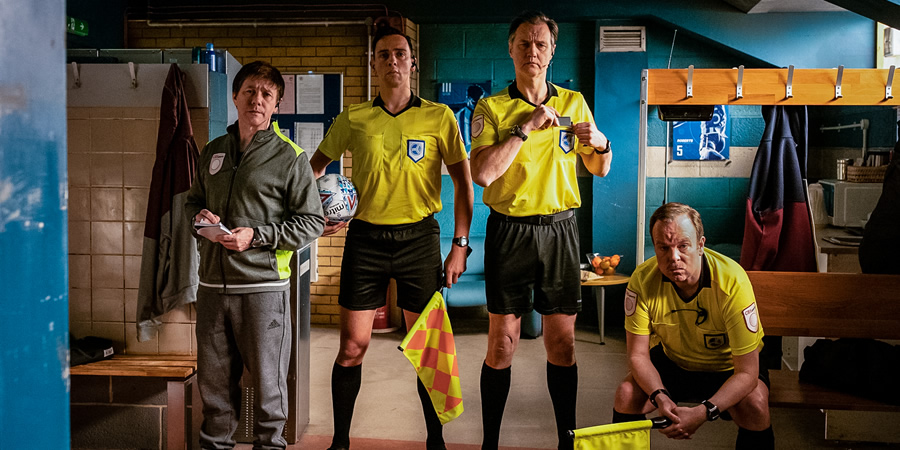 The guest stars for the fifth series of hit comic anthology series Inside No. 9 have been revealed.
The BBC confirms: "A host of talented actors are set to join masterminds Reece Shearsmith and Steve Pemberton as they create six brand new stand-alone stories which promise to bring more exceptionally twisted tales to BBC Two."
The line-up of actors appearing in an episode will include Maxine Peake (dinnerladies), Jenna Coleman (Doctor Who), Ralf Little (The Royle Family) and Steve Speirs (Upstart Crow).
Also confirmed for the new run is David Morrissey (The Missing), Dipo Ola (Baghdad Central), Phil Davis (Whitechapel) and Jill Halfpenny (In The Club).
Spy star Tom Goodman-Hill; Timewasters actor Kadiff Kirwan; and Fionn Whitehead, recently seen in Black Mirror: Bandersnatch, are also on the cast list.
Debbie Rush, best known for playing Anna Windass in Coronation Street; and Ioanna Kimbook, who was recently cast opposite John Malkovich in the new David Mamet play Bitter Wheat; complete the cast list revealed today.
Reece Shearsmith and Steve Pemberton say: "We're delighted to announce a guest cast brimming with both emerging and established talent, all judiciously chosen to make us look a bit classier by association."
Filming is currently taking place. Details of the titles and plots are, as is customary with the show, currently being kept tightly under wraps, but an image revealed today shows Ralf Little and David Morrissey appearing alongside Reece Shearsmith and Steve Pemberton as the referring officials of a football game.
The BBC says: "The new series follows last year's live Halloween special Dead Line, which has been cited by The Guardian's TV reviewers as the best TV episode of 2018. Season five will stay true to the show's anthology format, with each episode bringing an original story, a cast of new characters and surprising twists in the most unexpected of places. Combining horror, thriller, drama and comedy, Inside No. 9 never fails to amaze, delight, unnerve and amuse in equal measures."
The new series is again being produced by Adam Tandy. One of the six episodes in this series will be directed by Steve Pemberton, returning to the role after the episodes Cold Comfort and Nana's Party from the 2015 series. Guillem Morales returns to direct three further tales, with the two remaining films directed by Matt Lipsey.
At the time of writing, all 25 episodes to date of Inside No. 9 are available to watch via BBC iPlayer
Audiences for the format have been steadily growing as more viewers discover the show on catch-up. Earlier in the month, Inside No. 9 was voted by comedy fans as the Best Comedy Drama and Comedy Of The Year 2018, breaking records in the process by becoming the first show to win the Comedy Of The Year title twice.
Shane Allen, Controller of BBC Comedy Commissioning, says: "Reece and Steve consistently dazzle and delight with what is undoubtedly the most inventively prolific storytelling series on television. Their ability to subvert and surprise makes each show a unique experience for the viewers. It's the antidote to a world of familiar cosy TV formats."
Inside No. 9 Series 5 will be shown on BBC Two later in the year.
---
For updates, click the buttons below.
Share this page