Mr Swallow Show pilot
Channel 4 to broadcast The Mr Swallow Show pilot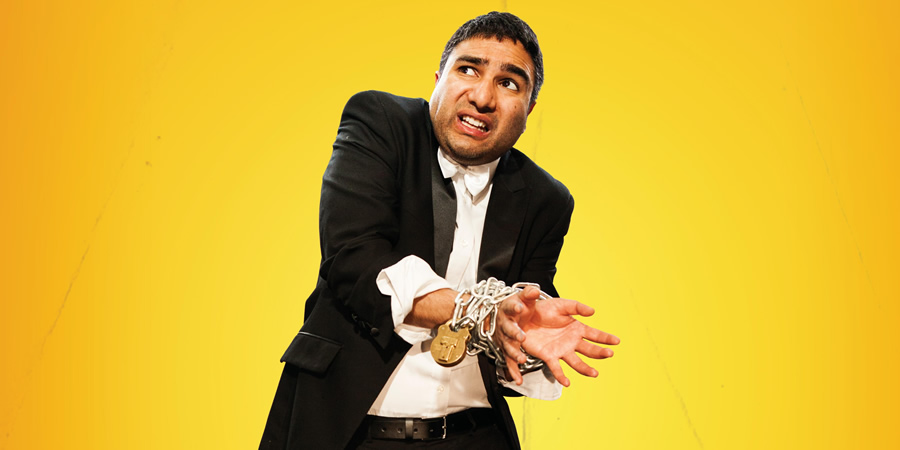 Channel 4 is to broadcast The Mr Swallow Show, a new comedy pilot.
The comic chat show format will be presented by Nick Mohammed in the guise of his character creation, Mr Swallow.
Swallow, an excitable but inept presenter, has previously appeared in several of Mohammed's live shows, a 2017 Sky comedy short titled Mr Swallow's Valentine, and as a guest in Dictionary Corner on 8 Out Of 10 Cats Does Countdown.
Talking about the format, producers explain: "Mr Swallow (Nick Mohammed) along with his house band - and with the aid of Jonathan the floor runner - will bring glitz, glamour, magic, and song and dance to the TV every week. If that wasn't enough he will also be talking to two celebrity guests as he aims to bring you the worst chat show ever commissioned GREATEST SHOW ON EARTH!"
It is believed the keen and enthusiastic Jonathan will be played by Kieran Hodgson, who has also played the character in the live shows and Sky short.
Ahead of the studio recording, Mohammed has been filming scripted scenes for the show this past week, one of which is titled 'Pool Holding Breath'. In his hit 2016-2017 live show Mr Swallow's Houdini, Mohammed performed a trick in which his character escaped from a padlocked water tank.
Talking about the new TV pilot - which has also been titled Mr Swallow's Chat Show during development - Mohammed wrote on Twitter: "Without giving too much away, the show opens with me not being able to walk and ends with me not being able to breathe."
A non-transmittable pilot will be recorded on Friday 15th February at Elstree Film & TV Studios. Free tickets
The project is being overseen by Guilty Party Pictures, the production company run by producers Spencer Millman, Nicola Shindler and comic actors Jonny Sweet and Simon Bird. The company has previously worked with Mohammed to make Mr Swallow's Valentine.
Nick Mohammed is also currently working on Intelligence, the recently-announced Sky One sitcom series that will co-star Friends actor David Schwimmer.
The Mr Swallow Show will be shown on Channel 4 later this year.
Here is Mr Swallow appearing on 8 Out Of 10 Cats Does Countdown:
---
For updates, click the button below.
Share this page