Judge Romesh Series 2
Judge Romesh Series 2 planned
Judge Romesh looks set to return for a second series
Filming dates have been booked at Pinewood Studios in January
The format sees Romesh Ranganathan presiding over genuine disagreements between people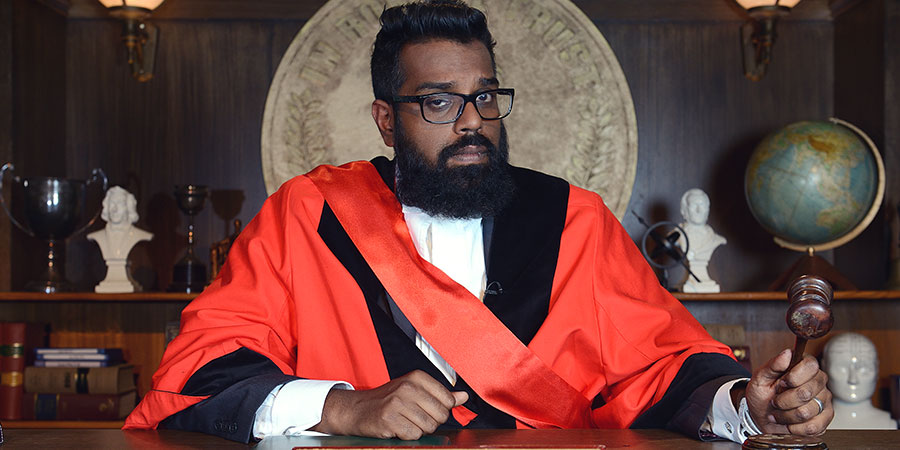 Judge Romesh, the comedy format in which Romesh Ranganathan makes decisions on real life disputes, looks set to return for a second series.
The UKTV original show launched as a 10-part series on Dave in August. Following a similar set-up to dispute-settlement formats Judge Judy and Judge Rinder but with a more light-hearted tone and comedy elements, the episodes see the stand-up comedian joined by Tom Davis acting as court bailiff, and Kerry Howard as the court clerk.
Cases in Series 1 included a prankster boyfriend whose jokes had gone too far according to his girlfriend; a rapper and a video producer locked in a bitter battle over £3,000; and Blue stars Duncan James and Anthony Costa clashing over the rightful ownership of a Brit Award.
As producers Hungry Bear explain: "Each week Romesh presides over genuine disagreements and metes out comic judgement in his own inimitable style. There's no case too big, too small, or too weird as he dispenses his very own style of court room justice on all their disagreements. The people who enter the court are not actors, but real people with real problems."
Speaking at the time Series 1 was announced, Ranganathan said: "Whenever I have watched shows like Judge Judy or Judge Rinder, I have always thought these people would be better served by someone with fewer legal qualifications and less interest. It is for that reason that I am delighted to make that dream a reality. I am thrilled to be able to help as many people as I can with their crappy problems."
Series 2 has yet to be announced or confirmed by UKTV, however studio dates have now been booked at Pinewood Studios in January. Tickets
Judge Romesh is one of a number of TV projects Romesh Ranganathan is currently involved in. He has the green light for a second series of his Sky sitcom The Reluctant Landlord, and presents various travel-based series on the BBC and Sky.
He can next be seen in 'King Gary, a BBC One sitcom pilot by Tom Davis that is due to be broadcast on Sunday (23rd December).
---
For updates, click the button below.
Share this page