White Gold Series 2 filming
Filming resumes on White Gold Series 2
Work on White Gold Series 2 is back underway, as Ed Westwick returns to film scenes for the sitcom
Filming was halted last year after three women levelled sexual assault claims against the Gossip Girl star
Series 2 will see the characters getting involved in selling timeshares in Spanish apartments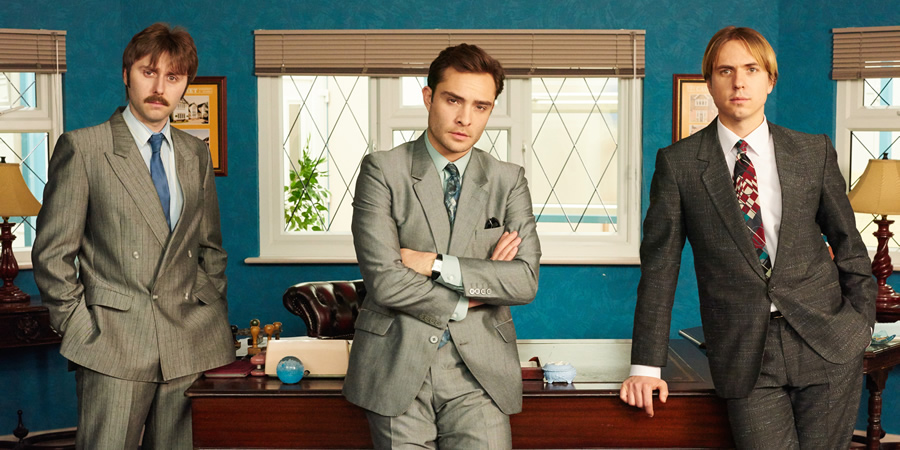 Filming has resumed on the second series of White Gold.
Production on the sitcom was halted in November last year when three women levelled sexual assault claims against lead star Ed Westwick.
The actor strongly denied the allegations, calling them "unverified and provably untrue", and in July the Los Angeles District Attorney announced it would not pursue the cases against the Gossip Girl star, citing that there was "insufficient evidence" for a prosecution to go ahead.
Westwick, James Buckley and Joe Thomas are now completing the scenes yet to be shot. Westwick, who plays arrogant double glazing salesman Vincent Swan in the comedy, posted a picture on Instagram showing him on the set of the 1980s-based show, with the caption "When the 80s call".
A spokesperson for the production told British Comedy Guide, "We can confirm we are recommencing production on Series 2 of White Gold with our full cast returning to complete the series."
Fudge Park, the production company behind the show, have said that filming will continue for another few weeks, and that it hopes that the six-part series will be ready to air early on BBC Two in 2019.
Written and directed by Inbetweeners co-creator Damon Beesley, Series 2 of White Gold was originally announced in June 2017, following the strong ratings for the first series.
Referencing the final episode in Series 1 and how the show will lead on to Series 2, the BBC explained at the time: "Charismatic but corrupt salesman Vincent Swan faced a fall from grace as he lost his job, wife, and house in his bid for professional glory. Can he rescue everything with one final gamble in a race to placate the tax man? We'll see the results in the second series, where Vincent and the Cachet Windows team delve deeper into Essex's criminal underworld."
Giving a hint that the new series will see the premise expand beyond double glazing sales, Shane Allen commented at the time of the recommission: "In Series 2, the swindles spread abroad to cover the Spanish timeshare apartment gold rush. Expect to see Ed Westwick in some tight swimming trunks."
---
For updates, click the button below.
Share this page