People Just Do Nothing USA
People Just Do Nothing to be piloted in America
Amazon Studios is to make a pilot episode of People Just Do Nothing for American audiences
The new version, based on a similar premise to the hit BBC Three series, will be set in North Las Vegas
The UK version is due to return for a fifth series, in which the council prepare to knock down the block of flats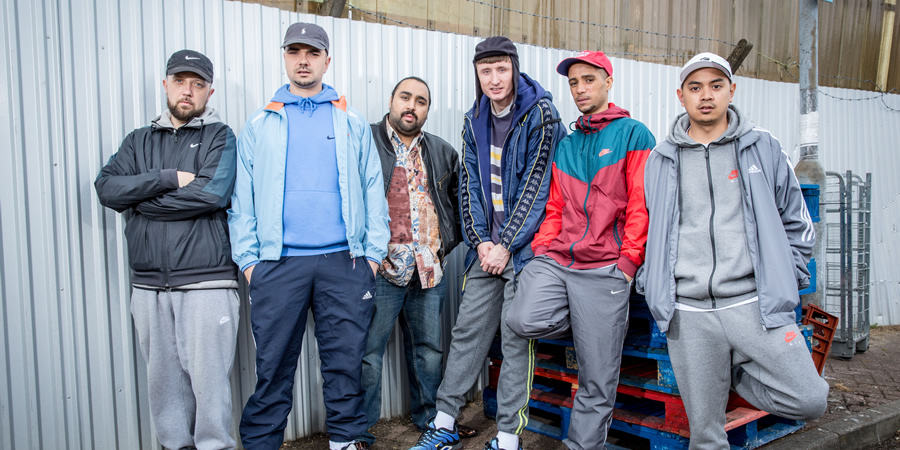 Hit BBC sitcom People Just Do Nothing is to be remade by for American audiences.
Variety reports that Amazon has ordered a pilot episode to be filmed.
The trade publication says: "The untitled, half-hour project is a mockumentary following a group of working class DJs and their friends in a town called North Las Vegas: a land of mini malls and vast parking lots, where the lights of The Strip act as a beacon of fame and glory that's just out of reach. The series tracks their stumbling ambitions, and explores how relationships between friends and family evolve as the reality of peoples' dreams starts to hit."
Mehar Sethi, who has worked on shows including It's Always Sunny in Philadelphia and BoJack Horseman will lead the writing team adapting the original British scripts.
The creators and stars of the UK version - Allan Mustafa, Hugo Chegwin, Steve Stamp and Asim Chaudhry - will act as executive producers on the project alongside Ash Atalla from production company Roughcut TV, which will work on the show with Amazon Studios.
Chris Storer, who has worked on stand-up formats including The Comedy Lineup and Chris Rock: Tamborine will direct the shoot.
Details on the casting for the project have yet to be announced.
People Just Do Nothing launched on BBC Three as a pilot in 2012, growing over the subsequent four series into notable hit. The upcoming Series 5 is set to bring the comedy to an end.
Teasing the new series - which is expected to begin next month, the BBC say: "DJ Steves has been arrested and all the station equipment has been seized by the Police. Can the crew find a new home to transmit from and finally make Kurupt FM go global? Will Chabuddy be able to find time to help alongside his job and his insatiable new girlfriend?
"The station isn't the only thing under threat. After the excitement of the Wedding, Miche and Grindah have been rocked by news that the council have decided to knock down the Brentford blocks to make way for luxury flats. Where will this leave the family?"
A spin-off book from the show - Chabuddy G. - How To Be A Man - is due to be released on 1st November.
---
For updates, click the button below.
Are men supposed to be fighters? Lovers? Hunter-gatherers? Fashionistas? Business gurus? Culinary experts? You're wrong if you think one man can't be a jack AND a master of all trades.
In How To Be A Man, I'll show you how to be a proper god amongst men. This book caters for a girthy gap in the market but it's not just for the lads! Ladies, take heed - these are the qualities you should look for in a heterosexual mate.
You'll learn how to boss a job interview (the eyes are the windows to the soul - that's why you should avoid eye-contact at all costs. You don't want them looking into your disgustingly dirty soul); some chirpising tekkers (I have invented a new style call 7 down, 1 up. You viciously insult the lady seven times and then give her one compliment) and I've even shared some of my go-to recipes (Medium Rare Hearty Chicken with Crunchy Peanut Dust Roast Potato and Beef Monster Munch). But I'm not giving you any more details than that - you'll have to buy the book. Remember, the first hit's for free but you'll be back! ;)
So, sit back, relax, light a candle. Get naked if you want to. Get the baby oil out - I don't judge - and let your manly juices flow.
PS. I dedicate this book to my ex-wife, Aldona. I loved you and you ended up running away with another man, stealing my beautiful Merc and my most prized possession - the golden foot spa. But I'm totally over it and look at me now - I'm only a bloody published author. So yeah, I'm totally FINE. I'm thriving, in fact. I don't need you anymore! I AM SO OVER YOU! HOPE YOU ENJOY THIS BOOK!
First published: Thursday 1st November 2018
Buy and sell old and new items
Search for this product on eBay
It looks like you're in the US? Fear not! Almost everything can still be ordered.
Amazon UK
deliver internationally,
Amazon.com
carries many items separately, or you can look out for US/Canadian flags on our product listings for direct links.
If ordering from a UK store, please note that you are in Region 1 (DVD)/Region A (Blu-ray), whilst the UK is in Region 2/B, respectively. This means that many - but by no means all - may fail to play. Look for products marked "Region free", "All regions", "Region 0" or "Multi-region". Blu-rays may also be marked "Region A/B/C", "Region free", or variations thereof. You may also check whether your DVD/Blu-ray player supports multi-region playback (also referred to as "region free"), or whether it can be set to do so. There should, of course, be no problems with books, CDs, or other physical items.
More advice & help on importing
Share this page