The Time I Almost pilot
Comic documentary about failure in development
A comedy documentary series called The Time I Almost... is currently in development
Presented by actor and writer Alexis Strum, it focuses on the topics of fame and failure
"Moments of failure, however painful or embarrassing, make for great stories and, ultimately, great TV"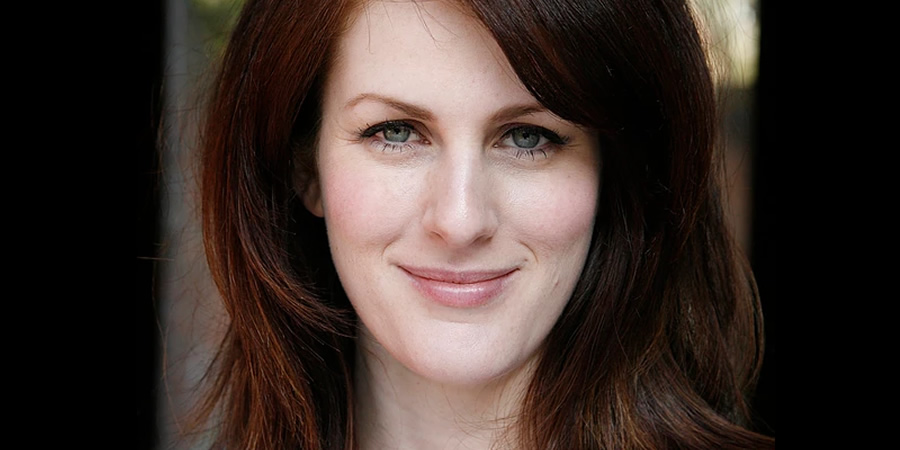 A comedy documentary series focusing on the topics of fame and failure is in development.
The Time I Almost... will be presented by comic actor and writer Alexis Strum, and overseen by producer Paul Cornwell.
The project has come out of the autobiography Strum has written, and the stories in the blog she maintains.
Whilst now recognisable for roles in sitcoms including Wannabe and Sick Note, her previous modelling, song-writing and recording career saw her nearly catapulted into stardom, but not quite, and she now styles herself as the 'Queen Of The Also Rans'.
The description for the project explains: "Alexis Strum should have become a big star. She's the girl who wrote songs for Kylie Minogue and Rachel Stevens; had Ellie Goulding and 'Christian Grey' (aka Jamie Dornan) support her on stage; who had 'Lucifer' play her boyfriend in a music video; who recorded with Robbie Williams; who sort of became the next Kate Moss; who virtually had an album out; who had record deals; modelling contracts, publishing deals, you name it; who really should've become the next big thing... but she didn't. This is the series about what went wrong."
TV producer Paul Cornwell of Ginger Werewolf Productions, whose previous projects include working with Derren Brown, says the planned series will feature Alexis "travelling down memory lane, reconnecting with the celebs she met on her 'meteoric rise to anonymity', alongside insights from experts, all seeing if they can crack the formula for fame."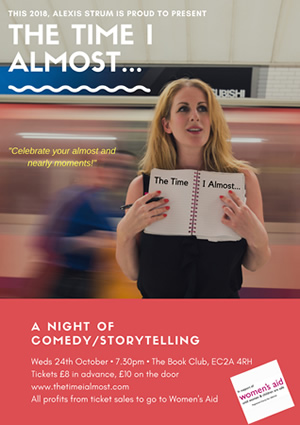 Talking to British Comedy Guide, Strum said: "In my twenty or so years in the business, I've racked up a lot of near misses - I've been an almost popstar, a nearly successful songwriter, a blink and you'll miss it TV writer, a sort of but not quite stand-up and now I'm actually doing semi-alright at acting, but that doesn't mean you ever become immune to rejection - there are still loads of roles I didn't get - playing Matt LeBlanc's wife in a huge American sitcom was just one of many - but those moments of failure, however painful or embarrassing, are actually really interesting and make for great stories and, ultimately, great TV. Plus, I have no shame!
"It all started one day when my mate was being a little bit less than supportive about my career and he said, 'Alexis, you wrote the book on failure!' and I thought, 'do you know what, that's a really good idea'... so I just sat down and started writing. After finishing the book, I wanted to do The Time I Almost... as a live night with storytellers and comedians telling of their own near misses, and all of us just basically hugging it out and raising a glass to failure (a half-full glass of course!). Hopefully, the message will be inspiring and I can be like an older sister who fucks up so you don't have to. Maybe I'll even get asked to do a TedTalk on How To Fail Big And Influence People - who knows! I'm so excited about this TV series and one thing I can promise you is a juicy smorgasbord of Schadenfreude!"
Paul Cornwell adds: "Ironically, mine and Alexis's comedy journey together all began with the fact that I was just another in a long line of people that didn't give Alexis a break. I auditioned her for a big Channel 4 special a couple of years back and gave the gig to someone else; unusually though we've stayed in touch, sharing ideas and making each other laugh regularly in the interim years.
"I've now started a new production company called Ginger Werewolf Productions, having spent years as a jobbing producer. Alexis is an amazing collaborator. Incredibly funny and generous with her ideas and we are confident that this series will resonate with anyone who's ever had a 'Sliding Doors' moment of their own.
"We're both currently developing her failure opus The Time I Almost... into a multi part 'comedymentary', which hopes to be a 'celeb'-laden extravaganza with a view to pitch to broadcasters shortly. And beyond that we hope to continue our collaborative relationship further with more new comedy with and without Alexis front and centre."
The first The Time I Almost... live night, raising money for Women's Aid, will take place on Wednesday 24th October at The Book Club London. For more details on the event, and Strum's book visit thetimeialmost.com
Share this page