Two Doors Down Series 4 cast
New neighbours join Two Doors Down Series 4 as regular characters
Graeme Stevely and Joy McAvoy are to become regulars on Two Doors Down Series 4
New neighbours Alan and Michelle will be seen settling in to their house when the show returns in 2019
Cathy considers Michelle a rival. Other plot lines include Christine having a stay in hospital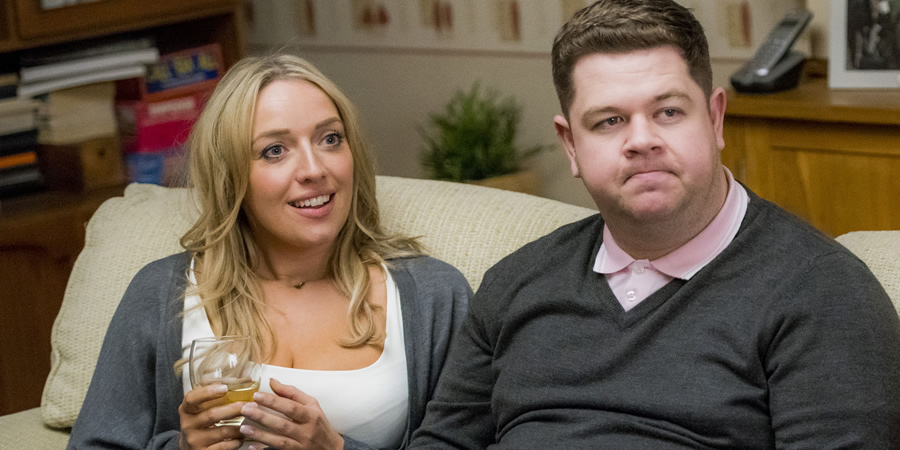 The BBC has confirmed that the characters Alan and Michelle - played by Graeme Stevely and Joy McAvoy - will appear as regulars in Series 4 of Two Doors Down.
Filming is currently underway on the new series of the sitcom at Dumbarton Studios, outside Glasgow, with a BBC Two broadcast slot set for early in 2019.
Set in the fictional Scottish suburban street of Latimer Crescent, this new six-part series will once again have its core cast, with Arabella Weir as Beth and Alex Norton as Eric - the long-suffering Bairds whose home is often at the heart of the comedy - and Elaine C Smith as Christine, Doon Mackichan as Cathy and Jonathan Watson as her husband Colin, Jamie Quinn as the Bairds' son Ian and Kieran Hodgson returning as his boyfriend Gordon.
Having been introduced in the last episode of Series 3, Graeme 'Grado' Stevely and Joy McAvoy will also be back as new neighbours Alan and Michelle, settling in to their freshly decorated house.
This new series will see Beth and Eric celebrate 30 years of married bliss, while Christine will stress test the NHS with a temporary hospital stay. The Bairds will also receive a visit from Gordon's parents Sandra and Graham, played by Maggie O'Neill and Alex Kirk.
The BBC adds: "There's a whole new level of passive aggressive tension unleashed as Cathy jealously vies with new neighbour and rival Michelle."
Two Doors Down has become one of BBC Two's best performing comedies. Introduced as a Hogmanay special at the end of 2013, the show - written by Simon Carlyle and Gregor Sharp - has consistently increased its viewing share over the course of three series, with a high point of more than 1.8m tuning in for Series 3. The format performs particularly strongly in Scotland with viewing figures of more than 400,000 - roughly a quarter share of the viewing audience.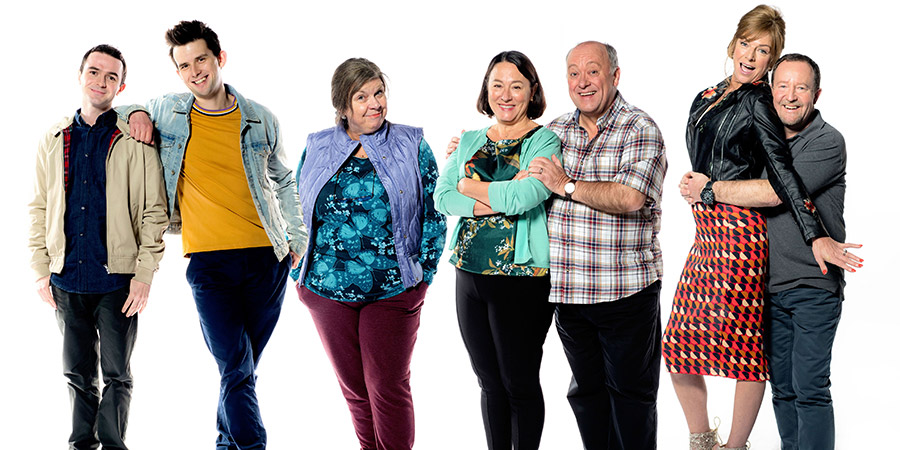 Talking about filming the new series, Arabella Weir says: "The whole cast were thrilled at the very warm reception Series 3 received across the UK. And for my part I'm over the moon to be pulling on Beth's leggings again."
Doon Mackichan adds: "Cathy, as ever, will have a few surprises in her wardrobe and will deliver even more surprises in her neighbours' living rooms. Series 4 is going to be fun."
Steven Canny, Executive Producer for BBC Studios Comedy, says: "Two Doors Down is a special show for us and I'm delighted that we are once again returning to Latimer Crescent. It's made by an extraordinary group of people working at the top of their game. The writing, performances and craft skills are outstanding and I'm thoroughly looking forward to us finding new ways to torment poor Beth and Eric."
Shane Allen, Controller Comedy Commissioning for the BBC, comments: "The scripts for the new series are a laugh out loud riot, the cast are the cream of Scottish comedy talent and the audience continues to impressively grow and grow "
Two Doors Down Series 4 will be shown on BBC Two in early 2019.
---
For updates, click the button below.
Share this page