Come Fly With Me gets a second series
Come Fly With Me gets a second series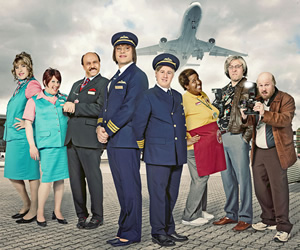 Come Fly With Me, the BBC One mockumentary comedy series starring Matt Lucas and David Walliams has been recommissioned for second series.
The BBC Comedy Blog revealed today that a second series has been ordered by the new controller of BBC One, Danny Cohen, and controller of comedy commissioning, Cheryl Taylor. However, it is not yet known when the series will be filmed because Lucas and Walliams have other commitments.
Cohen told the blog: "Come Fly With Me has been a huge hit with audiences. I can't wait to see what Matt and David will do with the second series."
Co-executive producer of the show, Mark Freeland added: "After such a flying start on BBC One, it's great news that Matt Lucas & David Walliams will once again be filling the check-in desks, departure lounges and cockpits with their wonderful and weird characters."
Although it was met with mixed press reviews and attacked by some for not being politically correct, Come Fly With Me has been deemed a success by the broadcaster. The first episode, broadcast on Christmas Day, was the most watched comedy programme in 2010, and the six-part series maintained an audience of over 5 million throughout its run, impressive ratings for any TV show.
Come Fly on the Wall, a look back at the making of Series 1, will be broadcast on Tuesday 8th February.
Share this page