BBC orders third series of Miranda
BBC orders third series of Miranda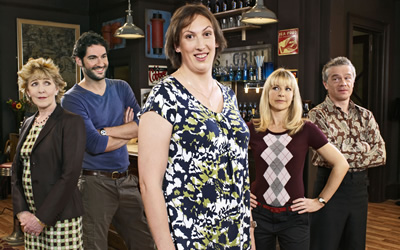 BBC Two sitcom Miranda has been commissioned for a third series, and talks are underway about possibily moving the comedy to the corporation's flagship channel, BBC One.
A third series of Miranda, the sitcom in which Miranda Hart plays an exaggerated version of herself, has been ordered by comedy commissioner Cheryl Taylor, but as yet it has not been assigned to any particular channel.
A spokeswoman for the BBC said: "We are delighted that Miranda will be continuing to create fabulous comedy for the BBC and as yet there have not been detailed discussions about which channel she may appear on."
The first two series of Miranda were commissioned by then head of BBC Two, Janice Hadlow, in order to increase the number women in mainstream comedy. However, it is believed that the head of BBC One, Danny Cohen, wants to broadcast the new series due to a lack of mainstream pre-watershed comedy on his channel.
The most recent series of Miranda was a huge hit for BBC Two. It attracted, on average, 3.2 million viewers (12% audience share) and finished with 4.3 million viewers (16%) - very significantly above the channel's normal average, and in some week's even beating BBC One's ratings.
It is expected that Sarah Hadland, Patricia Hodge, Tom Ellis, James Holmes and Sally Phillips will all return the new series, which will likely be broadcast towards the end of 2011.
Miranda is a broad family-friendly audience based comedy, with a distinctive style. Slapstick and characters directly addressing the camera are two of the comedy's trademarks. A clip from the show is below...
Share this page