Dawn French hints that Vicar Of Dibley could return
Dawn French hints that Vicar Of Dibley could return
---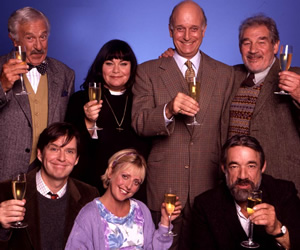 Dawn French has hinted that The Vicar of Dibley could return. The BBC comedy, which was voted one of the top 5 British sitcoms of all time in a TV poll, ended on the 1st January 2007 with a special which saw French's character, Vicar Geraldine Granger, getting married. The episode was watched by over 13 million people.
When asked on ITV daytime chat show Loose Women if there was any chance the sitcom would return, Dawn French replied: "Never, say never I guess. But we did finish it off and I said to Richard [Curtis, the writer] people are always asking me this question, we need to say this is definitely the end. So that's why my character got married."
However, the actress then added: "We went to the wrap party and were all a bit sad because we'd be working together for 13 years and it had been a great job and then, as I was leaving the party, the producer said 'just so you know, Richard has asked for the sets to be stored'" - an indication that the creator hadn't ruled out the show returning again one day. French, then added that Richard Curtis "always did say to me if women could be bishops... and I think we're on the cusp of that. But who knows!"
Dawn French, who has recently split up from long-term husband Lenny Henry, has been keeping herself busy with acting roles. She recently starred in dark comedy drama Roger & Val Have Just Got It which British Comedy Guide understands is close to a second series commission; and she has recently finished filming the second series of Steve Pemberton and Reece Shearsmith's Psychoville.
She also told the ITV show that her comedy partner Jennifer Saunders was coping well in her recovery from cancer, and that the duo were looking forward to recording three festive radio shows for Radio 2 over the Christmas period (guide)
French was appearing on Loose Women to promote her new novel, A Tiny Bit Marvellous - a story about a child psychologist who doesn't understand her children.
Share this page