BBC orders full series of Ricky Gervais sitcom Life's Too Short
BBC orders full series of Ricky Gervais sitcom Life's Too Short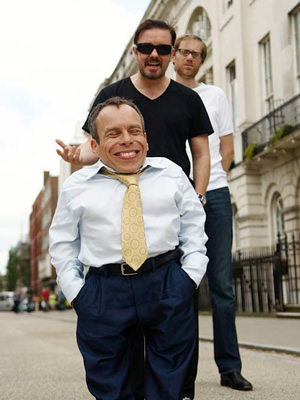 BBC Two has ordered a full series of Life's Too Short - the new sitcom project by Ricky Gervais and Stephen Merchant.
The creators of The Office and Extras have already filmed a pilot episode which has impressed BBC Two boss Janice Hadlow and BBC Comedy Commissioner Cheryl Taylor enough for them to order a six-part series.
As with the pilot, the series centres on Warwick Davis - whose credits include Star Wars and the Harry Potter series - and who is one of Britain's pre-eminent dwarf actors. The BBC describes Life's Too Short as "an observational comedy following Warwick's day-to-day frustrations, but still managing to find the optimism and warmth in a small world where big things happen."
Gervais and Merchant have already begun writing the six 30-minute single-camera episodes for the BBC, and will be making an appearance as themselves in the programme too.
Ricky Gervais said: "Third in our trilogy of TV sitcoms, Life's Too Short is another naturalist observational comedy, dealing with everyday problems, human foibles and social faux pas... but with a dwarf."
Warwick Davis said: "I am absolutely thrilled that the BBC has 'green-lit' the first series of Life's Too Short. For me, it is my dream acting job. I will be collaborating with the very best in the business - the BBC, who produce the finest television in the world, and Ricky Gervais and Stephen Merchant, who are without doubt the best comedy writer/directors there are (they've won a couple of awards!)."
Mark Freeland, Head of BBC Comedy, says: "Warwick Davis has done it all - blockbuster movies, books... but never starred in a comedy series on BBC Two, written by Ricky Gervais and Stephen Merchant. But that's about to change and it's incredibly exciting."
Life's Too Short will be filmed and broadcast in 2011.
Here is a video of Ricky Gervais and Warwick Davis mucking about with Sesame Street's Elmo...
Share this page